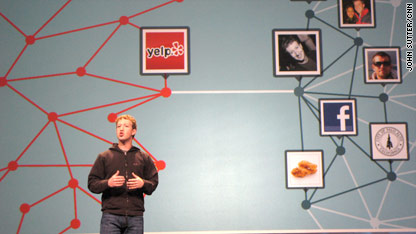 A week after Facebook announced that it's "Like" button would start percolating around the Internet, the powerful social network says 50,000 websites have adopted the change.
"Already, just one week since launch, more than 50,000 sites across the Web have implemented the new plugins," Sandra Liu Huang writes today on Facebook's blog for application developers.
"We are thrilled by the strong adoption so far as developers realize how easy social plugins are to use and how powerful they are in engaging users in a frictionless experience without requiring them to share any personal information."
People use the "Like" button to recommend websites, news stories, blog posts and music to friends.
Facebook announced the change at its f8 conference on April 21. At the time, only 75 sites had signed up to use the feature, which is Facebook's way of making the entire web a more social experience.
In a keynote address at f8, Facebook CEO Mark Zuckerberg said there would be 1 billion "Like" buttons scattered all over the web within 24 hours of his announcement.
Thursday's blog post makes no mention of whether that target was met.
Tech blogs largely have reacted favorably to Facebook's effort to spread itself all over the web. Some have expressed concerns about privacy and the fact that Facebook may want to be a singular, dominant force on the Internet, putting it in competition with search engine giant Google.
On the blog Mashable, which is a CNN partner, Ben Parr writes that the fact that 50,000 websites have adopted Facebook's "Like" plugin is a good sign for the social network, which already has 400 million members.
"Social plugins are just the first step in Facebook's ambitious plan to become the central nexus of the web," he writes. "With this kind of adoption success, it's tough to imagine a scenario where Facebook doesn't take over the web."
Posted by: John D. Sutter -- CNN.com writer/producer
Filed under: Facebook