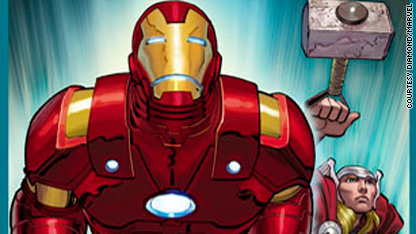 Iron Man and Thor, part of Free Comic Book Day
Editor's note: Geek Out! posts feature the latest and most interesting in nerd-culture news. From sci-fi and fantasy to gadgets and science, if you can geek out over it, you can find it on Geek Out! Look for Geek Out! posts on CNN's SciTech blog.
Tomorrow is a magical day at your local comic book shop. You can walk into the store, load up on some comic books and walk out without paying ... completely legally!
That's right, it's Free Comic Book Day, and many comic book publishers are offering very special issues of some of their hottest titles for fans to enjoy without paying a dime.
This event has taken place since 2002, after retailer Joe Field was inspired by Baskin Robbins' "Free Scoop" night. For an ailing industry, it seemed like just the ticket: If it works for ice cream, why not?
Every year, many comic book stores make Free Comic Book Day a big deal, and with so many major and independent publishers out there, there's a lot to choose from. There's literally something for everyone, from Archie and the Simpsons to a sampling of comics from small publisher Oni Press to a comic book about Lady Gaga. Here are a few suggested titles to check out:
– War of the Supermen #0 is the beginning of what is promised to be one of the biggest Superman events ever, the culmination of a years-long story arc, involving the arrival of 100,000 super-powered Kryptonians living on Earth. The idea behind these free comics is usually to make them accessible to new readers, so if they can pull this off, that will be quite the feat. Younger readers might want to check out the DC Kids Mega Sampler instead. (DC is owned by Time Warner, which also owns CNN.)
– This year, Seth Rogen will star as the Green Hornet in a major motion picture. However, this is hardly the first time Hollywood has tried to bring the Hornet to the big screen. At one point, writer/director Kevin Smith had a script for a big-budget treatment of the classic radio character before dropping out, reportedly due to getting cold feet about such a big undertaking. As Smith told EW.com, he was approached to try a new take on the Hornet and ended up putting his script to the comic page. The Green Hornet #1 is the first part of that effort, and having read it, I can say it's definitely an intriguing story so far, about a Hornet for a new generation.
– For G.I. Joe fans, it doesn't get much better than Larry Hama's treatment of the characters, which started in 1982 for Marvel Comics. After Joe fever died down, the series ended with the 155th issue (now highly sought-after by collectors). G.I. Joe #155 1/2 is Hama's attempt to continue that story after the G.I. Joe team has shut down and Cobra runs rampant. Should be very interesting reading.
– And now for one of the classics. If you watched the Fox Saturday morning lineup back in the 1990s, you should be very familiar with the Tick. You may have even seen the short-lived, critically acclaimed prime-time series in 2001. Now readers can see where it all began with a special reprint of The Tick #1, especially for Free Comic Book Day. Spoon!
– Invariably, Free Comic Book Day is timed to coincide with a major comic book-based motion picture release. This time, it's "Iron Man 2." Marvel has a possible sneak preview of the upcoming "Avengers" movie with Iron Man/Thor, as the two heroes team up for a special free story, promising a "bold new direction" for both characters. Younger readers are encouraged to read old Shellhead's adventures in Iron Man: Supernova.
Like I said, there's more where that came from, but that should get you started. Happy reading!
Posted by: Christian DuChateau for CNN.com, Henry Hanks -- CNN iReport Associate Producer
Filed under: Geek Out!