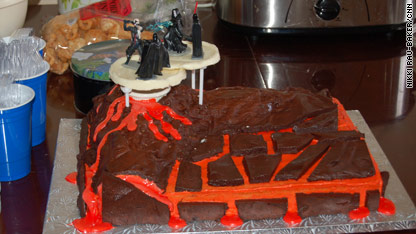 Star Wars cake
Editor's note: Geek Out! posts feature the latest and most interesting in nerd-culture news. From scifi and fantasy to gadgets and science, if you can geek out over it you can find it on Geek Out! Look for Geek Out! posts on CNN's SciTech blog.
A long time ago, in a galaxy far, far away it was decided that May 4th would be Star Wars Day. And if you're lucky, the festivities will include themed cakes or "Wookie Cookies."
The turn of phrase "May the 4th be with you" may seem like a hokey way to celebrate the legacy of such a ground-breaking film series, but many fans enjoy the idea of having a day dedicated to the franchise.
Everything from large collectible houses giveaways to students encouraged to dress up as their favorite Star Wars characters will mark this years festivities. Local conventions and cosplay groups will have viewing parties planned where they watch all six films back to back. A Lego fan community focused on Star Wars is giving away limited edition Lego figures. There's even a Jedi Church that fans can attend to commemorate the day.
This year overall is pretty big for any Star Wars fan. Celebration V is August of this year in Orlando, Florida. Then there's the yearly Star Wars Weekends at Disneyworld and of course the 30th anniversary of the release of "The Empire Strikes Back" this month.
So while some Star Wars fans may not necessarily embrace the phrase, we all enjoy celebrating the movies we love. Got any Star Wars memories to share today? Comment below or visit iReport to discuss "Empire" specifically.
Posted by: Nikki Rau-Baker for CNN
Filed under: Geek Out!