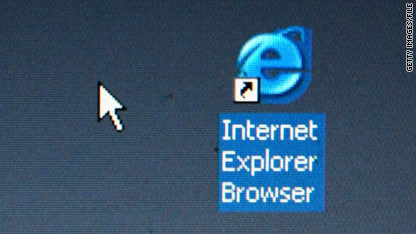 Many people complain about Microsoft's Internet Explorer. There have even been campaigns to kill old versions of the Web browser.
But despite the haters, IE has always remained way on top. In June 2002, 95 percent of computers accessed the Internet through the product, which comes installed as the default web-surfing tool on Microsoft Windows computers.
IE remains dominant today. But, compared to its heights in the early 2000s, it's slipping. This week, the market researcher NetApplications released a report saying IE has fallen to less than 60 percent of the browser market.
Meanwhile, alternative browsers like Google's Chrome and Mozilla's Firefox are catching up a bit.
Firefox makes up nearly a quarter of the browser market; and newer Chrome is at about 7 percent, up from about 2 percent a year ago in May.
A new version of Internet Explorer - IE9 - is expected to debut soon.
Gartner analyst Jeffrey Mann tells the BBC that alternatives to IE continue to catch consumer attention:
"There are more viable alternatives now. Google has been advertising and there are more people using Macs and Apple's Safari. There is just a great awareness that there are alternatives," he says.
That's impressive, considering there's plenty of anecdotal evidence that many Web users don't know what a browser is. (If you're one of them, don't feel bad. It's the program you open in order to access the internet. It's what you're using to view this story.)
What do you make of IE's slipping market share? Which browser do you use and why?
[via BBC Tech]
Posted by: John D. Sutter -- CNN.com writer/producer
Filed under: browsers • Internet