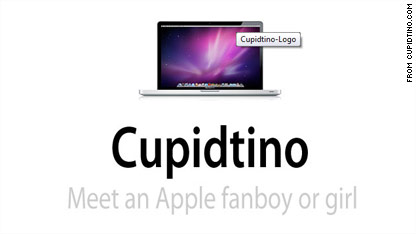 Do you spend your nights debating the merits of iPhone multitasking?
Do you have a poster of Steve Jobs on your bedroom ceiling?
And are you looking for a partner who has plenty of free wall sockets, so you can charge up your iPod, iPad, iBook and iPhone - all at once?!?
Well, maybe Cupidtino is the website for you.
The new dating site, designed exclusively to set-up fans of Apple gadgets, says it will launch in June.
For the uninitiated, the name is a combination of Cupertino, the California city where Apple Inc. is based, and Cupid, that love-mongering cherub that shows up every February. Apple fans have a reputation in the tech world for being, well, pretty fanatical. Some make pilgrimages to Apple stores. Others own nearly every product Apple puts out. When the iPad debuted earlier this year, some people waiting in line to buy it said they didn't really know what it was - but they trusted that Apple would know what's best for them.
Some people love Apple for its sleek, consumer-oriented products. Others hate the company just as much - dubbing its fans the "Cult of Mac." (A blog has actually appropriated that name and made it positive).
Cupidtino says it started the Apple-fan dating site because people who love Apple share other things in common, too:
"Cupidtino is a beautiful new dating site created for fans of Apple products by fans of Apple products!" a message on the site says. "Why? Diehard Mac & Apple fans often have a lot in common – personalities, creative professions, a similar sense of style and aesthetics, taste, and of course a love for technology. We believe these are enough reasons for two people to meet and fall in love, and so we created the first Mac-inspired dating site to help you find other Machearts around you."
At first, it didn't seem entirely clear whether the site was a joke or not.
But Cupidtino's Twitter feed sent a message to CNN saying, "We're for real."
The "about" section of the website says it was created by three people in San Francisco, California.
Here's how they describe themselves:
"We're 3 geeks (2 devs and a designer) with backgrounds at Google, Microsoft and Yahoo! We're based in San Francisco and obsessed with our Apple gadgets (we have them all!). We're privately funded and would love to discuss interesting partnership opportunities. More info to come soon as we release more broadly."
Some Apple-relevant blogs are pumped about Cupidtino:
"If there's one thing that all Mac-obsessed creatures have in common, besides their undying devotion to Apple products, it's the need to be loved," writes a blog called the iPhone Savior.
The blog notes that Mac fans have gotten married in Apple Stores before. If you meet the fanboy or -girl of your dreams, the blog suggests, "just be sure to pre-order your iPhone cake in advance."
Not everyone online is this excited about the thought of Apple fanatics falling in love, however:
Apple fans can be annoying when they're on their own," writes Michael Arrington at the blog TechCrunch. "The thought of them breeding and creating little Apple fans, a whole family of hard core hipster Apple lovers, is just not a good thing.
"On the other hand, making sure that Apple fans only date other Apple fans is a good way of stopping them from spreading their Apple fan genes to the general population, I guess. So maybe this site isn't all bad."
When it launches this summer, the Cupidtino service will only be available through "Apple platforms."
What do you think?
Apple fans: Do you feel a connection with other Macheads that could be useful in a dating context?
And PCs: Do you feel left out?
Posted by: John D. Sutter -- CNN.com writer/producer
Filed under: Apple