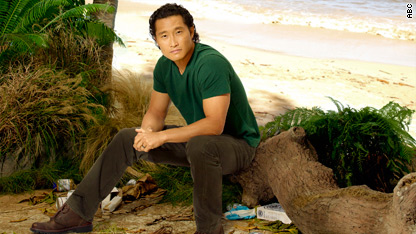 'Lost's' Daniel Dae Kim
Editor's note: Geek Out! posts feature the latest and most interesting in nerd-culture news. From sci-fi and fantasy to gadgets and science, if you can geek out over it, you can find it on Geek Out! Look for Geek Out! posts on CNN's SciTech blog.
SPOILER ALERT: Do not read this interview if you haven't seen Tuesday night's episode of "Lost!"
Fans are still reeling from the heart-wrenching deaths of Jin and Sun Kwon on Tuesday night's "Lost." Just prior to that episode, I had the pleasure of speaking with Daniel Dae Kim, who plays Jin, and he told me about his memories of the show, the now-deceased Kwons' "candidate" status, as well as his upcoming plans (also in Hawaii, where "Lost" was filmed, it turns out).
CNN: What will you remember most about "Lost?"
Daniel Dae Kim: The thing I'll remember most is the impact it had on my life in every aspect. Professionally, it was the best job I ever had... let me say, up to this point, that is. Personally it's done so much for my family and me and for the financial stability that many people aspire to and that's been great, and it's just been an affirmation of the things I've hoped for.
There is one memory I have: When we first started the show we were unsure if it would be successful, when we shot it in Hawaii, we were pretty insulated from the reaction worldwide, and when we went back to the mainland of the U.S. and went back with the cast for a public appearance, I was shocked to see how popular it had become. I was leaving where we were appearing, and got in my car and my fans got in sight of me and surrounded the car and started rocking it back and forth. They were so excited we were there. When we were in that rocking car, I thought this must be what the Beatles felt like. That unexpected notoriety was shocking.
CNN: Did you ever try to unravel any of the mysteries on the show?
Kim: Because of my theater background, I was told to learn as much about your character as possible so I brought that philosophy into the show. No matter how much I tried to learn there would be much yet to be discovered. After six months or so, I started releasing myself from the need to know all of that and go with the flow of it. It's kind of like real life… we wake up in the morning but we don't know how the days events unfold and we [take it as it comes].
CNN: Did you find yourself frustrated in the early seasons with your character not being able to communicate with the others, aside from Sun?
Kim: It was enjoyable to play the miscommunication of it all and there were a lot of things I learned from not being able to communicate. I learned body language… to pick out the words my character needed to understand… to listen to someone not speaking the same language. These were interesting experiences as an actor. [Eventually,] it was necessary to understand and interact on a nuanced level so I was thankful to make that change [into learning English].
CNN: There were rumors going around that there were quite a few injuries on the set, including yourself, towards the end of filming.
Kim: I've got my share of scars from this show and when reporters ask if I have souvenirs from the set, I say my souvenirs are my scars and bruises - they're my souvenirs.
CNN: You were able to be part of this great romance with Sun, played by Yunjin Kim. How has it been working with her?
Kim: It's been nice to say that our working relationship over all the years has been great.
CNN: Will we learn which of the Kwons is a candidate before the series ends?
Kim: By the end of the series you will definitely know who is a candidate.
CNN: You're moving on now to the new "Hawaii Five-O" series. were you hoping to stay in Hawaii or was that a coincidence?
Kim: I've made no secret of the fact that I love living here, and when I heard [about the show], it piqued my curiosity. I heard of the creative team behind it and their ambitions for the show and I became interested. It's a great creative combination.
CNN: Are you able to talk about who you play on the show?
Kim: I play Chin-Ho Kelly (Kam Fong Chun's character in the original series)... some of the original names are intact for this remake and there's family connections as well. In many ways the show pays homage to the original, updating and making it relevant.
CNN: When will you know if the show is picked up as a series?
Kim: We won't know until the middle of May.
CNN: Back to "Lost," what sort of emotions were you and the cast going through on your last day of filming?
Kim: It was a big mixture of emotions. More than anything the feeling of celebration was predominant. It was nice to look someone in the eye and know that we accomplished this together.
CNN: Based on what you know about how it ends, will the hardcore fans of the show be satisfied with it?
Kim: That's a hard question, there are so many different factions that will only be satisfied in particular ways. For the things I love "Lost" for, it is a great ending.
Filed under: Geek Out!