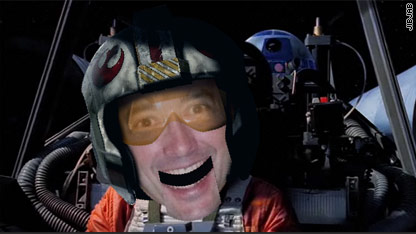 Larry Skywalker
Editor's note: Geek Out! posts feature the latest and most interesting in nerd-culture news. From sci-fi and fantasy to gadgets and science, if you can geek out over it, you can find it on Geek Out! Look for Geek Out! posts on CNN's SciTech blog.
In celebration of the 30th anniversary of "The Empire Strikes Back", Lucasfilm and JibJab are offering fans a chance to really get into the movie. Really.
Users can upload a photo of themselves and place their face on Luke, Leia, Han or Lando's body and see how they would appear in the movie. The program, "Star Wars Starring You", uses the JibJab style (witty banter, jaw-dropping talking) to show the entire movie in about 2 minutes with you as one of the main characters.
The entire Star Wars mythos has been ripe for parodies, homage and fan films for years. Lucasfilm has embraced all of the fun and, in 2002, sponsored the first annual Official Star Wars Fan Film Awards to recognize those filmmakers.
Mainstream Hollywood also took their loving shots at the Star Wars with "Hardware Wars", a 1977 film that George Lucas has called his favorite parody, and "Spaceballs", a campy takeoff of the first Star Wars movie.
Animated TV shows, such as "Family Guy" and "The Simpsons", have also had their fun with Darth, Yoda and Boba Fett. Recently, a video made the rounds on the Internet showing Darth Vader trying to do recordings for a GPS device.
But it is the fans that have produced many of the quality and highly watched films. One of the more popular creations is a film called "Troops", shot in the style of the police show "Cops", with stormtroopers taking the place of police officers. Even toys get involved as LEGOS are often used to depict scenes (with humorous consequences since they are blocks) in short films.
Lucas, for his part, has encouraged his fans to produce their takes on his vision as long as it doesn't adversely impact the legacy of Star Wars. Fan web sites, such as TheForce.Net, also serve as a gathering place to show off and view fan films and parodies.
What makes the Star Wars universe so ripe for inspiration? Is it the characters? The quotes? And what are your favorite fan films? Tell us in our comments!
Meanwhile iReport and Geek Out! would like to know the story of when you first saw "The Empire Strikes Back." Tell us all about it here.
Posted by: Larry Frum for CNN.com
Filed under: Geek Out! • Movies