Editor's note: Geek Out! posts feature the latest and most interesting in nerd-culture news. From sci-fi and fantasy to games and science, if you can geek out over it, you can find it on Geek Out! Look for Geek Out! posts on CNN's SciTech blog.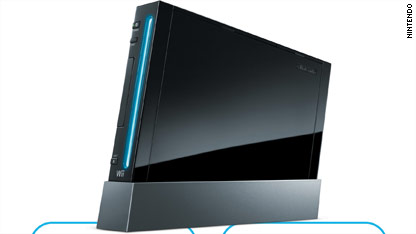 Black or white?
In an effort to boost sales, Nintendo is going to the dark side with a new black version of their Wii console.
It is more than just a color change though. The new set up (and now the original white as well) includes the Wii MotionPlus unit and the "Wii Sports Resort" game in addition to the regular accoutrements that accessorize the Wii console.
Recently, the company announced its first slip in profits in six years. Nintendo blamed the downturn on price reductions, less-than-strong software offerings and an unfavorable exchange rate. Despite the doom and gloom, 5.26 million Wiis were sold in the United States over the past four months and nearly 71 million sold worldwide at the end of the fiscal year in March.
The price of the Wii, even with the additional hardware and software, will remain at just under $200 for either color. The black Wii is available in the U.S. starting this week.
Return of Sam Fisher
The ultimate stealthy guy (ok, other than Batman) returns and makes it personal in "Splinter Cell: Conviction" (UbiSoft).
Sam Fisher, the protagonist throughout the Splinter Cell series, takes on a rogue organization bent on taking over the United States. With more twists and turns revealed about Sam's past, you'll feel like you are spending just as much time looking backward as you are going forward.
The gameplay is familiar – stick to the shadows, do stealthy kills and pick off back guys with silenced bullets. One new move – the execute move – made some scenarios seem almost too easy. It allows Sam to target multiple baddies and take them out with a single push of the button. The move is great for clearing out a room, but misses something in the play.
The voice acting is wonderful as usual. Michael Ironside returned (and really, who else could have done it?) after asking for and getting some changes in the Sam Fisher character. Ironside does a great job of nailing the anger and frustration in Sam as well as emoting wonderfully during the emotional scenes.
Some of the action takes place in Washington, D.C., and the more famous buildings are well rendered inside and out. The flow of the game is obviously up to the player, depending on how stealthy you want to get, but you probably won't use the same tactic twice to storm a building.
The ending was a bit of a let down, but didn't really detract from the overall game. And, of course, they set it up for another possible addition to the series in the future.
"Splinter Cell: Conviction" is available now as an XBox 360 exclusive title.
Logic and Art Unite
Games for handheld consoles seem to be best when you can pick them up any time, play the game, and put it down without feeling like you were forced to stop in the middle of the action. Puzzle games are great for this.
"Picross 3D" (Nintendo) for the DS series is a perfect example of a fun game that you can drop in on for a while, but don't feel compelled to play all afternoon (unless you want to).
Gamers are presented with a solid block of cubes that have numbers on them. The trick is to peck away at the blocks to reveal the hidden shape contained inside. Puzzles start out easy, but get progressively harder as fewer and fewer numbers assist you in the beginning. That's where the logic part of the game kicks in.
There are over 365 puzzles, more than a puzzle a day for a year, but you'll get hooked and end up playing 4 or 5 (or more) at a time. It also allows you to create and share original puzzles with your friends.
As simple as it seems, you'll find yourself aiming for perfect scores on each puzzle. It is also a game that can be played by nearly all members of the family.
What video games were you playing this past week? Tell us in our comments.
Posted by: Larry Frum for CNN.com
Filed under: Games • Gaming • Geek Out! • video games