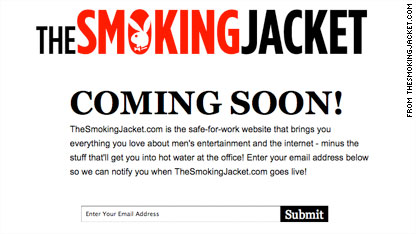 You just read it for the articles, huh? Well, now's your chance to prove it.
Playboy has announced plans to roll out a work-friendly website, targeting office workers who browse the internet from their desks but don't want to get caught reading the iconic men's magazine.
"Playboy's TheSmokingJacket.com is the safe-for-work website that brings you everything you love about men's entertainment and the internet, minus the stuff that'll get you into hot water at the office," Playboy spokeswoman Theresa Hennessey said in a written statement.
The site is up but not active and will be launched "in the coming months," Hennessey said.
The announcement comes as Playboy seeks to reposition itself in an adult-entertainment landscape drastically altered by the internet. In short, if you're looking for pictures of naked women, there are plenty of other sites to find that (and more) for free.
Playboy Enterprises reported a net loss of $1 million in the first quarter of this year - actually better than what was predicted. The company reported a loss of $13.7 million during the same quarter last year.
"We believe that 2010 will be a transitional year and that the true benefits of our strategy will be more fully evident next year," Playboy CEO Scott Flanders said in a statement last month.
Presumably, The Smoking Jacket - a nod to founder Hugh Hefner's preferred brand of leisure wear - would be part of that transition.
After its monthly photo spreads of playmates, Playboy magazine is also known for celebrity interviews, short fiction by big-name authors, rankings of the nation's top party schools and other content.
But as tech blog Switched notes, "... if The Smoking Jacket will not feature buxom beauties au naturel, what exactly will drive traffic to the site?"
Posted by: Doug Gross -- CNN.com producer
Filed under: Internet • online news • pop culture