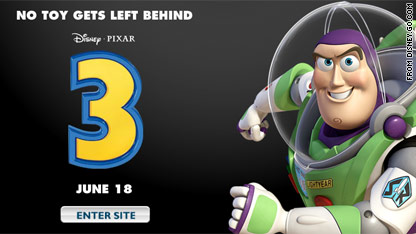 UPDATE 5:30 p.m. ET: Disney Online spokeswoman Dana Henry Benson says "Toy Story 3" has an iPad-specific website, but a glitch caused some iPad users to hit the Flash site, which wouldn't load. That bug has since been fixed, she said in an e-mail to CNN.
"Toy Story 3" has a nice website.
You can play games with Rex the dinosaur, and learn how to make "Green Alien Cupcakes."
But, for a brief time, some Apple iPad users were haven't a tough time viewing it on their touch-screen computers.
That Disney website is built in Flash format, which, as screen grabs show, means it didn't work at one point on Apple's iPad, iPhone or iPod Touch.
Big deal, right? Lots of websites are built in Flash, and many of them don't work on Apple gadgets (there's a workaround for some Flash video). But it's kind of amusing when you consider the fact that Apple CEO Steve Jobs, who has been posting lately about how much of a problem Flash is, was a Pixar co-founder and now serves on Disney's board of directors.
Disney Online says a glitch prevented iPad users from viewing the site, but an iPad-specific website is now working.
The faux pas stirred up some jokes online.
As a Wall Street Journal blog says in a headline, "Whoever Built the 'Toy Story 3' Web Site in Flash, Please Report to HR Immediately–and Bring Everything in Your Desk With You."
(via AllThingsD)
Posted by: John D. Sutter -- CNN.com writer/producer
Filed under: Adobe • Apple