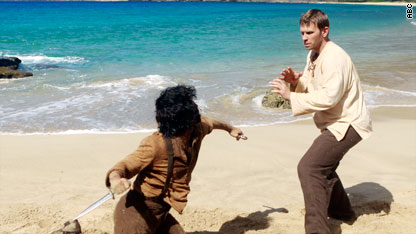 Editor's note: Geek Out! posts feature the latest and most interesting in nerd-culture news. From sci-fi and fantasy to games and science, if you can geek out over it, you can find it on Geek Out! Look for Geek Out! posts on CNN's SciTech blog.
Tonight on "Lost," we may finally find out the origins of the perpetual struggle between Jacob and the man in black that has lasted hundreds, if not thousands, of years. These men seem to be immortal, and it appears that Jacob granted Richard Alpert his wish of never dying.
These men have lived through centuries without appearing to age at all. Actor Mark Pellegrino, who plays Jacob, told CNN's Henry Hanks that he would actually love to live forever in real life.
"I don't think it's a curse, I think it would be a wonderful thing. If you have an open mind and a brain, you can only get better with age," he said. "I think given where Richard came from and where he evolved to it came from wisdom - and Jacob too."
In real life, the limit tends to be around 100 to 110 years, said Dr. Robert Butler, president and CEO of the International Longevity Center-USA and professor at Columbia University's Mailman School of Public Health.
Recently the world's oldest living person, Kama Chinen, died a week before her 115th birthday. The person with the longest recorded, confirmed lifespan in human history is Jeanne Louise Calment. She was born in 1875 and died in 1997, at age 122 and 164 days, according to Guinness World Records.
The number of long-living people is growing. By 2050, there could be close to 1 million people aged 100 and above in the United States, Butler said.
"So far it's usually disease that ends our life, but in theory the clock does run out," he said.
Butler's new book "The Longevity Prescription" outlines steps to living a long, healthy life.
Some of the advice is intuitive: a good diet that's low in fat and mostly vegetarian will serve you well, he said. Recent research found that a Mediterranean diet may help stave off cognitive decline. Keeping your drinking moderate, not smoking, and getting physical exercise will help preserve your body and mind.
Having a purpose in life that makes you get up in the morning also helps, he said. Get involved in your community by doing volunteer work, participating in local organizations, and coming up with good deeds for others. It's never too late to follow your passions - for instance, the musical group Young@Heart Chorus started in a housing project for seniors in Northampton, Massachusetts, and has since performed internationally.
Forming strong relationships, reducing stress, and getting a good amount of sleep are all part of the prescription for a long life, he said.
Beyond what you can currently do in your daily life, there is also research going on to scientifically slow the process of aging. Scientists are looking at proteins called sirtuins as the means of extending lifespan. Leonard Guarente at the Massachusetts Institute of Technology is studying the connection between sirtuins and caloric restriction. Read more
But don't get too excited - it would be a breakthrough if we could extend life by seven years, as that seems to be the threshold of declines in aging, Butler said. At the cellular and molecular level, the nature of deterioration is such that a 70-year-old is likely to be in worse shape than a 63-year-old.
Still, there's plenty of room for improvement. The average length of an American's life went from 47 years in 1900 to 77 years today. Most of that gain came from public health measures, such as basic hygiene, Butler said. In fact, he attributes only five extra years gained to advances in medicine over the last century.
Today, tragically, some of those gains could be reversing because of trends in obesity, Butler said. The fast food craze has contributed to a large population of severely overweight people who are at higher risk of chronic illnesses such as diabetes.
Bottom line: The idea of living forever is "pretty romantic," Butler said, but in the next hundred years we may be able to slow aging, delay age-related diseases, and live a little bit longer.
Read more health news on Paging Dr. Gupta.
Posted by: Elizabeth Landau -- CNN.com Writer/Producer
Filed under: Geek Out!