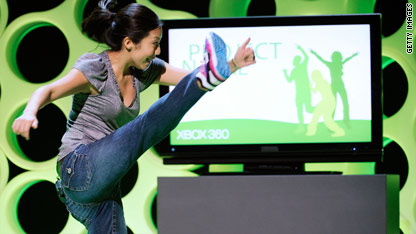 Microsoft's Project Natal - a video game system that reads body movement and doesn't require remote controls - will go on sale in October, according to a video interview posted on the website Gametag Radio.
In the short clip, a Microsoft marketing manager named Syed Bilal Tariq appears to tell the site that the body-sensing video game system will go on sale worldwide in October. CNN was not immediately able to confirm the report.
At the E3 gaming conference last year, Microsoft showed off the Natal technology for the first time. The company later confirmed the system would go on sale by the holiday shopping season this year.
Natal is an add-on for the Xbox 360 console. A camera reads players' body movements and then transfers them into the characters in a game. So you might play soccer, for example, by kicking your leg rather than clicking a button on a remote or swinging a controller, as is the case with the Nintendo Wii.
Natal is part of a new wave of "gesture-based" technologies that are coming to market. The underlying idea is that people should be able to use natural body movements and hand gestures to control consumer electronics, rather than clicking buttons or dragging mouse pointers across screens.
Nintendo popularized this idea with the Wii, the casual gaming system where people swing remote controls and balance on boards to control their digital avatars. Sony has another competitor called the PlayStation Move, which is expected out this year, too.
Look for updates on many of these products at the E3 Expo, coming June 15 to 17.
Posted by: John D. Sutter -- CNN.com writer/producer
Filed under: Microsoft Corp. • Nintendo • Project Natal