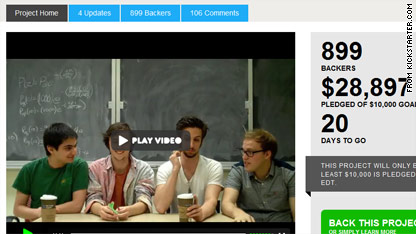 Sick of the barrage of Facebook privacy scandals?
Don't trust a multi-billion-dollar corporation with your photos and personal information?
Well, there may be an online social network for you yet.
It's called Diaspora, and it's an idea from four New York University students who say in a video pitch that big online companies like Facebook shouldn't be allowed to have access to, and to some degree "own," all of the personal data that flows in and out of their social networks.
The site, which is still in development, has been dubbed "the anti-Facebook" by tech blogs.
The solution sounds a little wonky: Diaspora basically enables computers to share updates, photos and videos directly with each other. It eliminates the middleman, i.e. Facebook, Flickr, Google or Twitter, so no one has access to your data but you and your friends.
To set things up this way, each user has to have server space. In Diaspora-speak, these machines are called "seeds."
But, despite the potential technical confusion, the result, the site's founders say, is a fully private and secure network, without cutting down on the "sharing" aspect of the internet, which is such a trend at the moment.
"Social networks have only really existed for 10 years," one of the Diaspora founders says in a video introduction. "We don't know what's going to happen to our data. It's going to exist into the foreseeable future. We need to take control of it."
"Because once you give it away once it's no longer yours. You cannot stake claim to it," another chimes in.
Diaspora's founders - who look kind of like they jumped out of "Revenge of the Nerds," and, according to NYTimes.com, consider themselves to be pretty nerdy - posted their idea on the crowd-funding site Kickstarter to get money for the venture. If you're not familiar with Kickstarter, it's a site where people post information about their projects and ask random members of the internet for funding.
So far, about 900 people have contributed a total of nearly $29,000. That's more than the $10,000 the Diaspora founders said they needed to start the site.
ReadWriteWeb says that the way Diaspora works may confuse some general users. But, the blog notes, Diaspora may offer a paid service that would be simpler to use. Positioning itself as the anti-Facebook may help, too:
"If Diaspora is realized, it will be up to technology advocates to position the turn-key service in a way that will make it sound simple and appealing to precisely those sorts of mainstream users if it is to ever succeed. Taking shots at Facebook's privacy issues may be a good course (Take back control with Diaspora!)," the blog writes.
"We would like to see Diaspora come to be, even if it never goes mainstream, because it would finally offer privacy advocates a real alternative to the increasingly data-hungry Facebook."
Check out Project Diaspora's website and let us know what you think. Mark Zuckerberg co-founded Facebook in 2004 out of his Harvard dorm room; it now has 400 million users worldwide. Is it too late for a challenger? Or do the latest privacy concerns leave it vulnerable?
Posted by: John D. Sutter -- CNN.com writer/producer
Filed under: Facebook • Internet • social-networking sites