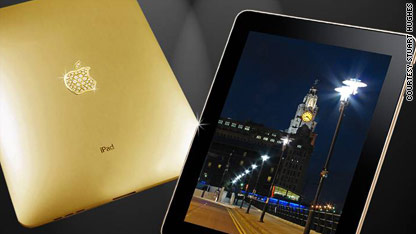 Got an extra $190,000?
Then you could have an Apple product that you REALLY don't want to leave behind at a California beer hall.
Stuart Hughes, a British company that bills itself as a purveyor of "ultimate luxury," is offering a 22-carat gold iPad encrusted with more than 25 carats of flawless diamonds (including a diamond Apple logo).
The company has made 10 copies of their Gold iPad Supreme.
"This most luxurious iPad's appearance is outstanding even down to the precise polishing to reveal its most beautiful harmonious appearance," the company's website says in a curiously worded sales pitch.
The tablet computer costs 129,995 British pounds - roughly $190,000, depending on the exchange rate at the moment. No word on whether that price include personal hand delivery by Steve Jobs.
And, for the record, Stuart Hughes shelled out the extra $300 or so to get the top-of-the-line 3G, 64GB version. You know ... ultimate luxury and all.
Posted by: Doug Gross -- CNN.com producer
Filed under: iPad