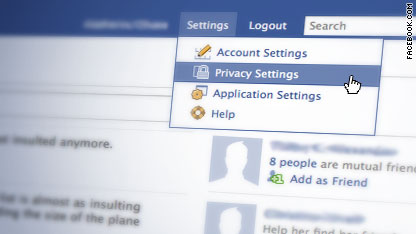 To some users and tech writers, it appears Facebook won't let anything stand in the way of its quest for World Wide Web domination. Maybe not even its users' privacy.
As most Facebook users already know, the social networking site has yet again updated its privacy settings. And the "guide to privacy on Facebook" can seem more like an encyclopedia than a guide. Some users have become so confused that they've chosen to leave the site entirely.
But, thanks to a few independent tools floating around in cyberspace, it's gotten a bit easier to navigate the maze of Facebook settings. Here are a few tools and websites that caught our attention:
ReclaimPrivacy, a donation-based project, recently launched a tool that scans your Facebook page's privacy settings. It alerts users when their privacy settings have defaulted to public.
SaveFace, which is free to install, automatically sets users' settings - contact information, search settings, friends, tags, connections, personal information and posts - to "friends only."
TinEye is not specifically for privacy conscious Facebook users. However, the reverse image search engine can be useful when looking to see if an image posted on Facebook has made its way across the Web. Simply upload a photo and let TineEye search the Web to see if the image has been used elsewhere.
Finally, there's OpenBook (warning: potentially offensive language), a site that doesn't exactly help you manage your Facebook privacy settings, but it might scare you into wanting to keep your info private. The site lets you search through public status updates. Some really embarrassing stuff shows up.
Know of any tools we missed? Let us know in the comments.
Posted by: Special to CNN, Stephanie Goldberg
Filed under: Facebook