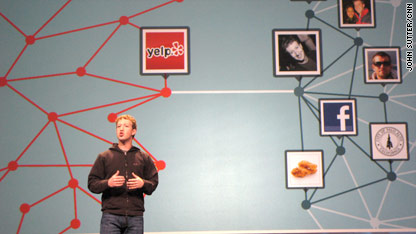 In an e-mail to CNN.com, Facebook spokesman Andrew Noyes responded to the growing rancor over the site's privacy settings and policies, which underwent some changes in April.
"With more and more people sharing content online, it's important that Facebook and other sites provide them with clear control over what information they want to share, when they want to share it and with whom," he wrote in the e-mail. "We're listening to feedback and evaluating the best way to respond to concerns. We understand that maintaining people's privacy is of paramount importance, not just to them but to the eco-system of the Internet as a whole and we welcome innovative ideas in this space."
Noyes made the comment in reference to rival MySpace's decision this week to make its site more private.
Some people have deleted their Facebook accounts because of concerns over their online privacy. The online social network, which has 400 million members, allows fine-grained controls over privacy settings, but some people complain that the settings are too numerous and complicated to be useful.
And a project called Diaspora has been getting press as the privacy-minded "anti-Facebook." The project, started by four NYU students, so far has raised $180,000 through the crowd-funding site Kickstarter.
Posted by: John D. Sutter -- CNN.com writer/producer
Filed under: Facebook • privacy