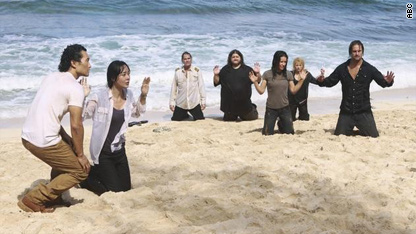 The cast of 'Lost'
Editor's note: Geek Out! posts feature the latest and most interesting in nerd-culture news. From sci-fi and fantasy to gadgets and science, if you can geek out over it, you can find it on Geek Out! Look for Geek Out! posts on CNN's SciTech blog.
Ah, Hawaii. Sun, sand, surf and... smoke monsters?
Okay, not exactly, but for six years, the TV series "Lost" made its home there, pumping approximately $400 million into the state's economy, according to Pacific Business News. Fans come from far and wide, not just to enjoy the usual Hawaiian R&R, but to spend as much as 10 hours in a day checking out locations where some of the show's most memorable scenes were filmed.
Like "Seinfeld" and "Sex and the City" before it, "Lost" tourism has become a business unto itself. One such tour is run by Ed Kos. "'Lost' just fell into my lap," he said. "I was already doing a Hummer/off-road movie location adventure about a year before 'Lost' started to film. They started filming along the same roads and trails that I was driving. I never had to change the route."
Kos, an "obsessive" fan of the show himself, offers four different tours of varying lengths ranging between $79 and $209. He's been told by some fans that his tour is the reason they came to visit Hawaii. "We had a man propose to his girlfriend at the same location that Jack and Juliet embrace and kiss for the first time on the show," he said. "We have people bring their own Dharma suits and wear them during the tour."
On occasions when Kos happened upon crew members setting up shots, he said that they seemed supportive of what he was doing.
As for the cast, they really loved working in Hawaii, as one might imagine. Daniel Dae Kim, who played Jin, liked it so much that he's not leaving. His next role will be on the remake of "Hawaii Five-O," recently picked up by CBS.
"I've made no secret of the fact that I love living here, and when I heard that ["Hawaii Five-O" was being remade], it piqued my curiosity," he said. After meeting with the creative team, it seemed like a perfect match.
Kim has even invested in a restaurant in Honolulu, a burger joint called The Counter.
Kim's favorite place in Hawaii to live is Oahu, due to its creature comforts. "To escape for a vacation, I would choose Maui," he said. "I love the quality of the sand. The granules are fine and it's like you're walking on baby powder."
Kim is not the only cast member who has fond memories of spending time in the Aloha State.
Henry Ian Cusick, who plays fan favorite Desmond, described what he would remember best about his time on "Lost:" "Going to work on the beach, looking at the whales, digging my feet into the sand until someone said we need you, feeling the sun on my back. It was a beautiful job."
For a glimpse at some of the best known "Lost" locations, including some of the cast's favorites, check out this photo gallery.
Filed under: Geek Out!