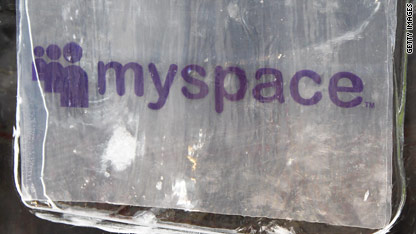 MySpace is not aging well.
The site was the world's largest online social network until 2009, when Facebook whizzed by. Now, MySpace says it has 113 million users to Facebook's 400 million.
But maybe there's a comeback for MySpace yet. This week, as Facebook continues to weather bad press about its non-private privacy settings, MySpace announced its comeback plan: Privacy settings that make sense.
"We respect our users' desires to balance sharing and privacy, and never push our users to an uncomfortable privacy position," company co-president Mike Jones said in a blog post on Monday.
In coming weeks, MySpace users will be able to choose from three settings that regulate the privacy of their profiles. They are:
"Friends only," meaning only people who you've agreed to be friends with can see your profile.
"Public," meaning anyone can search Google and find everything about you.
"Public to anyone 18 or older," which is pretty self-explanatory.
The default on MySpace will be "friends only." That sets it in stark contrast with Facebook, which describes its default privacy settings this way, in its 5,825-word privacy policy:  "The default privacy setting for certain types of information you post on Facebook is set to 'everyone.' You can review and change the default settings in your privacy settings. If you delete 'everyone' content that you posted on Facebook, we will remove it from your Facebook profile, but have no control over its use outside of Facebook."
Even before MySpace's announcement this week, some tech pundits were calling for Facebook to adopt simplified privacy settings. Farhad Manjoo, Slate's technology columnist, suggested 5-level privacy settings:
"You should be able to go to your privacy settings and see one big dial that lets you choose one of five levels between 'private' and 'public.' This setting would govern your entire profile; the more public you set the dial, the more you'll share with more people," he wrote on May 13. "By default, the dial would be somewhere in the middle, but you'd be able to shift it up or down at any time. You'd still be able to adjust more specific controls—you could set your profile to 'public' but allow only close friends to see pictures of your kid—but few of us would ever need to."
Facebook responded to some of these concerns in an e-mail to CNN.
It seems like three things could come of MySpace's new privacy controls. Facebook's faithful might give the site a second try. MySpace's privacy rethink could become contagious with other sites.
Or, maybe no one will notice.
Cast your vote for the most likely scenario in the comments. Also, does this make MySpace a more enticing social network?
Posted by: John D. Sutter -- CNN.com writer/producer
Filed under: Facebook • MySpace