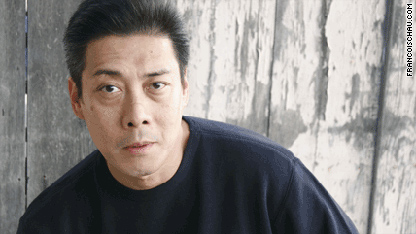 'Lost's' Francois Chau
Editor's note: Geek Out! posts feature the latest and most interesting in nerd-culture news. From sci-fi and fantasy to gadgets and science, if you can geek out over it, you can find it on Geek Out! Look for Geek Out! posts on CNN's SciTech blog.
Let me take you back to a simpler time: Early on in "Lost's" second season, to be exact, when the main mysteries on the island were: What's with that monster and that polar bear? And what's the deal with the hatch?
Well, inside the hatch, Locke, Mr. Eko and Michael watched an orientation videotape, which introduced viewers to the concept of the Dharma Initiative, hosted by one Dr. Marvin Candle. Dr. Candle would later show up in other tapes and films, revealing more mysteries of Dharma and the island, but with different names. Finally, his real name, Dr. Pierre Chang, was revealed, and we learned more about him. I recently spoke with Francois Chau, the actor who played Dr. Chang, and he shared his memories of working on "Lost."
CNN: What were your impressions on recording the first Dharma tape? Did you anticipate coming back? What did you think of this concept?
A: When I first got the job, it was just that one time to do that first orientation film, and once I was done, I figured that was it. When I got the job, I thought, "Here is my free trip to Hawaii." Then they called and said I would be filming at Burbank [Disney] studios. I did it and it was done, and I figured that was it. A few months later, they said we need to do more footage, and I said, sure. And then it started from then on, they kind of liked what they wanted to do with it. I started on the second season, so once those two were done, I did the next one at the end of the second season or beginning of the third. From then on, I went to Hawaii to do it. Since then, every time they call, I'm glad it's still going on.
The only thing I was kind of worried about was it was a big, long, two or three pages of monologue that I had to memorize and I was just thankful that I got through it without stumbling. Then I would think, oh geez, what was all this information about the station? I hope there's a lot of other stations with other orientation films that they would have me do. The show would give out a little bit, but there's a lot that they don't tell you and fill in the blanks. It's the nature of the thing where people were filling in what they expect and what the writers want or what's going to come. If you watch the film, it's this guy giving out this dry information, and people were getting something out of it.
People would sometimes say, "Those films are so creepy and scary, and sometimes I have to go into the other room."
CNN: Had you seen much of "Lost" before getting this job?
A: I watched the pilot, and I didn't have time and then I missed a few of them. I watched a few, I watched sporadically, I missed a lot of information. I got busy and hadn't watched for a while, and once I kept doing the orientation films and people would ask me, "What's going on? Can you tell me what's happening?" and I would say, "Gee, I don't know." So I thought I should watch it to understand the basic questions. And I started watching it, and I kind of got hooked at the end of season three when they started the flash-forward. I thought wow, that's pretty good. After that I was hooked, and I've been watching.
CNN: How have the fans been to you?
A: Some will ask, "What's going on, what does this mean, what does that mean?" There are two categories, the really avid fan who knows every detail of every episode, and who writes about it and does all this research. Those guys know 10 times more than I ever know, so when they ask me stuff, I say "You've got a lot more info than I do." The first couple of seasons I did them, I didn't know the script, and I would get it and shoot it, and after that I was on my way home. I didn't know what was going on except what I had to do. The other fans would watch and enjoy, but they're not as avid as to what's going on than the other people I meet. When people recognize me, it's usually, "Oh my God, I love you and your character."
CNN: What was your reaction on coming back in the fifth season and finally being able to interact with others, not just being on tape?
A: Up until season five, I never met anyone else from the cast. It was basically just me doing the little films, and I just flew in and didn't see anybody. It would have been more fun to meet some other people and do a scene where I could talk to somebody else. It was great [in the fifth season] … some people in the cast I had worked with before on other projects but I had never had a chance to work with them on "Lost." I did a couple of episodes of "JAG" with Terry O'Quinn. I had known Yunjin Kim for many years. I did a play with Henry Ian Cusick about 15 years ago. All of these people I knew for many years but didn't have a chance to see them. I didn't see Ian until this last season, it's been six years, but I never ran into him in all this.
One thing I kept thinking was how many of these orientation films are they gonna find? After two or three, it's gonna be boring, like "Oh, here's another one!" It was interesting to see what the writers would come up with, or if they would get anything at all. When I did the third one, I went to Hawaii, I looked at it and I thought wow, and that's when they started using the different names. I'm glad they went back to the '70s.
CNN: Did you get the idea that you might be Miles' father before that was revealed?
A: I have friends who are avid viewers. As soon as the character of Miles showed up … my friends were like "oh my God" ... they were thinking of what's going to happen. A couple of my friends jokingly said, "I think he could be your son." I mean come on, just because he's another Asian guy, he's not going to be my son. Sure enough, he was! I guess some of my fans were way ahead on that.
CNN: Did you enjoy your appearance in the "flash-sideways" this season?
After last season, I wasn't even sure I was gonna come back because they had so much going on, to tie up and give answers to. … When I watched the opening of season six, I started seeing characters from the past who showed up in different jobs or different guises, I thought, hmm, I wonder if they have anything in store for me. I guess because the character is popular, I'm sure they had to do something. It was fun that they made me the head of the museum. I work with Charlotte. It was fun. I did get a couple of questions about why I wasn't in my 70s. … I should be older. "You didn't look old." Dr. Chang looks good for his age!
CNN: Any favorite memories from the set?
A: There were days I was working where there were other cast members working the same time, and I had a chance to meet them. In filming, there's a lot of waiting around, so there was a chance to socialize and talk to the other cast members, and those days were great.
CNN: What do you think of this season's "Lost Untangled" videos featuring your character as a Muppet?
A: I was asked, "Would you do 'Lost Untangled' with the Muppet?" and I said, "Sure." At first they did it with a no-money budget and would use these cut-out figures of the cast, and this year they got some money and started to do the Muppet of Pierre Chang, and it's him explaining what's happening, and I got to do one of them and it was a blast. It's kind of weird standing talking to the Muppet. The puppeteer is sitting right there, but you can't talk to him, you're talking to the puppet. That was a first time to me, and it was a blast! They called and said, "Would you do another one?" I might do one more, I'm not sure.
Filed under: Geek Out!