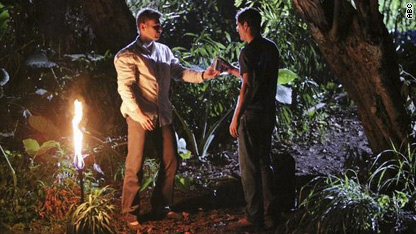 Editor's note: Geek Out! posts feature the latest and most interesting in nerd-culture news. From sci-fi and fantasy to gadgets and science, if you can geek out over it, you can find it on Geek Out! Look for Geek Out! posts on CNN's SciTech blog.
Where will the next "Lost" come from? Just as Jacob found his replacement in Jack, one has to wonder what, if anything, will replace this phenomenon. The Geek Out! team members have some very different opinions on this subject.
Henry Hanks:
Intriguing mysteries, parallel worlds, weird science and J.J. Abrams… yes, of course, I'm talking about "Fringe."
Currently in its second season, this show is quickly becoming one of my favorites, and quickly grabbing a cult fan base. I think "Lost" fans looking for the next show to obsess about (or just watch for fun) could do no better than to check out "Fringe," if they haven't already, that is. John Noble's performance as Walter is certainly on par with Michael Emerson or Terry O'Quinn.
And we actually know what it's about now! That didn't even take two years!
Christian DuChateau:
Viewers are much more likely to see the next "Lost" not on the major broadcast networks but on cable TV. Networks like AMC, FX and USA are attracting viewers with edgy, intelligent, character-driven dramas like "Mad Men," "Justified" and "Burn Notice."
Because they don't have to attract as big an audience as the major networks, the cable nets can afford to take a risk on a new show with a complex mythology. AMC will put this to the test in the fall, with their new sci-fi drama, "The Walking Dead."
The network has ordered six episodes of the series, based on the comic book of the same name. The story follows a small group of survivors stranded in an apocalyptic future overrun with zombies.
It's a sci-fi premise, a story driven by interpersonal conflicts, and if you've read the comic you're already aware, no character is safe. Hmmm, sounds familiar.
Doug Gross
George R.R. Martin's "Song of Ice and Fire" fantasy novel series is epic in scope and complexity in a way "Lost" fans should recognize and enjoy.
After years of turning down several movie offers, Martin - a fan of series like "Rome" and "Deadwood" - signed up with HBO to turn the books into a series. The show, "Game of Thrones," named for the first book in the series, is set to start up some time next spring.
Martin's characters are complex, with the line between good and evil often blurry at best. There are surprises aplenty in a fully realized high-fantasy world that rivals Tolkein's Middle Earth.
No seriously. It does.
If the series stays true to the books, there will be bloody medieval-style battles, alliances made and broken and just enough magic to keep things interesting.
Plus ... dragons.
Topher Kohan:
There will never be another "Lost" and we should stop trying to look for one. What made shows like "Lost," "X-Files," "Battlestar Galactica" - and, heck, even "24" - what they are is that they were, and are, cultural phenomena.
Let's forget that fact that "Lost" is one of TV's most expensive shows to produce, and let's forget that TV is more and more going away from sci-fi-type shows. "Lost" is one of a kind, and if we keep looking for the next "Lost" we'll will hate a bunch of good TV just because we thought it should be the "next" whatever.
I will miss "Lost" when it goes off the air. Then I will look for a the next show I will like and watch it for the show that it is, not try and compare it to the show it will never be.
Is "Lost" truly one of a kind, or is there something out there that can replace it for fans? Share your opinion below.
Filed under: Geek Out! • pop culture • television