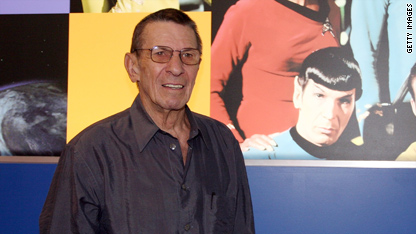 Editor's note: Geek Out! posts feature the latest and most interesting in nerd-culture news. From sci-fi and fantasy to gadgets and science, if you can geek out over it, you can find it on Geek Out! Look for Geek Out! posts on CNN's SciTech blog.
Tonight's episode of "Fringe" will be the final performance for "Star Trek" legend Leonard Nimoy. He was crystal clear on that when he spoke with reporters last week.
"I have announced my retirement," he said. "I will not be doing any more television or movie acting or directing. I can tell you that I feel very fulfilled with the work that was given to me to do in this final episode."
Since the end of last season, Nimoy has been playing the enigmatic character William Bell, the head of Massive Dynamic, a company that has been at the center of much of the plot threads going through the show. Last week, he approached Agent Dunham (Anna Torv) inside the parallel universe where he now lives, and he and the "Fringe" team appear to be headed to a confrontation with the parallel version of Walter, who recently kidnapped Peter.
Nimoy said he really enjoyed working on "Fringe" for his final performance: "I admire all of the people on this show: [actors] Anna Torv, Josh Jackson, and John Noble and all the rest. I had some wonderful scenes to play with John Noble, who I think is a wonderful actor."
Nimoy promises some very intense scenes between himself and Noble in tonight's season finale.
As for "Star Trek," don't expect him to be in any future films, either. "I have said that I think it's time for me to get off the stage and make some room for Zachary Quinto, who is the new Spock and a wonderful actor, looks a lot like me," he told reporters. "And I'm very flattered that the character will be continued by an actor of that caliber. He's very well trained and very talented."
Nimoy is ready to move on full time to his new passion, photography: "I've had 60 years of working in films and television. I'm very grateful for all the great opportunities that I've had and all and the people that I've met, the people I've worked with, the 'Fringe' company; I said on my final day of shooting was as good as any company I've ever worked within the 60 years of my experience."
Filed under: Geek Out!