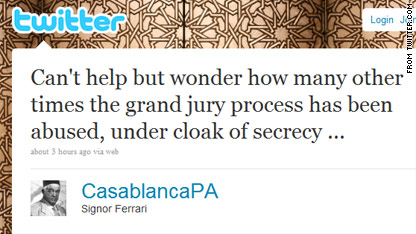 Pennsylvania's attorney general recently subpoenaed Twitter for the real names of two anonymous bloggers who have been criticizing him. Twitter generally doesn't give out user identities, according to a statement issued to the blog TechCrunch. And the American Civil Liberties Union in Pennsylvania now says it will represent the online critics.
"Any subpoena seeking to unmask the identity of anonymous critics raises the specter of political retaliation," Witold Walczak, legal director for the ACLU of Pennsylvania, says in a prepared statement. "It's a prized American right to criticize government officials, and to do so anonymously."
The anonymous Twitter users in question - @CasablancaPA and @bfbarbie - continue to use their feeds to criticize Tom Corbett, the current Pennsylvania AG, who also is running for the governorship in that state as a Republican.
According to the subpoena, as posted by TechCrunch, Corbett wants the Twitter users' names, addresses, contact info, IP addresses. This isn't the first time a politician or celebrity has tried to out anonymous dissenters online. Last year, the New York Supreme Court ordered Blogger.com, which is owned by Google, to release the identity of an anonymous online writer who had been ranting about former cover girl Liskula Cohen.
The identity fight in Pennsylvania also comes as the Web in general is becoming less anonymous. Facebook is leading the charge against anonymity, as it encourages its 400 million users to use their Facebook profiles - with photos, real names and background information - to comment on online news stories, music, events and other web content.
Posted by: John D. Sutter -- CNN.com writer/producer
Filed under: 4chan • anonymity • Facebook • Internet • Twitter