Editor's note: Geek Out! posts feature the latest and most interesting in nerd-culture news. From sci-fi and fantasy to games and science, if you can geek out over it, you can find it on Geek Out! Look for Geek Out! posts on CNN's SciTech blog.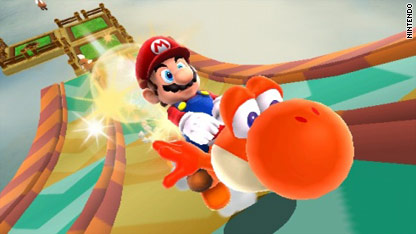 Mario takes on the Universe
Despite having some well-deserved time off that did not see any console gameplay time (except for "Picross 3D" on the handheld – I'm hooked), three games found their way into my consoles demanding play when I returned.
"Super Mario Galaxy 2" (Nintendo) is a fun, galactic ride for everyone's favorite plumber in his never-ending quest to defeat Bowser and rescue Princess Peach. The game starts off typically enough with Bowser kidnapping the Princess apparently for her baking skills and Mario goes planet hopping on his effort to collect stars and save the fair damsel.
The graphics are colorful and whimsical and the gameplay on the Wii is very solid. The platforming action has moments of 2D and 3D movement, but does so without sacrificing camera angles. The Wii controller expertly keeps Mario and friends on their targets and the music didn't detract from the action.
The planets and spaceships that Mario visits are varied in size and shape. First of all, his own spaceship looks like his head – no worries about losing it in a mall parking lot. The game progresses along a pretty linear path from planet to planet – some large planets that you can tunnel through and some small ones that seem to take two steps to get from one side to the next.
Mario collects power stars to fuel his ship, collects coins and star bits to power himself and specialty items to do different things. In all, this is a fun game for everyone and is a nice addition to the extensive library featuring Mario and friends.
The only drawback – and it feels like nitpicking – is the constant barrage of reminders by characters in the game how much more fun I could be having if there was another person playing along with me. If I've started the game as one player, I'm likely to be continuing as one player. I understand the Wii wants to be a console for the entire family, but there are some of us who just like solo missions. As I said, a little nitpicking but it was the only detraction I found.
If "Super Mario Galaxy 2" is all about fun and frivolity, then "Dead To Rights: Retribution" is the opposite.
"DTR: Retribution" (Volatile/Namco Bandai) features a tough, gritty cop named Jack Slate and his dog Shadow who are trying to clean up the city – one dead body at a time. This is a follow-up game (not really a sequel) to the original from 2002.
The gameplay starts by filling in the backstory on how Jack and Shadow began teaming up after the murder of Jack's father. Different missions let you control Jack alone, Jack with Shadow as an NPC partner or missions where you are Shadow.
Playing as Jack, you battle the bad guys through some good hand-to-hand combat that feels intuitive. The end of the battle can sometimes get pretty brutal for the bad guys, but hey, they had it coming, right? Gunplay is a bit dodgier where lining up for a shot can be a bit tricky and it seems like the criminals never miss. But never fear, because eventually they come out of their hiding places and are exposed targets for the cop on a mission.
Playing as Shadow was a bit more fun. There are some laugh-out-loud funny achievements to get while acting as the dog and the controls are pretty straight forward. There was an excellent stealth mission that would have made Batman proud and Shadow can sense bad guys by listening to their heartbeats.
It is definitely an adult game and not very much fun to look at. Your opponents start looking very similar from mission to mission. Everything is relatively dark and foreboding and there were times it seemed like Shadow was walking on air. But the challenges were evenly paced with a couple of difficult situations that test your nerve and hiding skills.
Finally, "Iron Man 2" (Sega) is not just a movie, but a video game tie-in as well - in as much as "tie-in" means it has the same title and same characters, but not the same story.
Gamers get to play as Iron Man or War Machine – sometimes you have a choice and other times you don't. Weapons are your standard repulsers, machine guns and missiles, but most of the time, it really doesn't matter. Battles are often plagued by a bad targeting system that seems not to work at long distances or switches around erratically as enemies come into view. Even when the hero gets locked in, the shot misses because the bad guy moved and the targeting system doesn't follow it. Enemies will swarm from all different angles and sometimes it is just better to let your fists do the destruction.
For a guy that (in the movies) zoomed into the upper reaches of the atmosphere, Iron Man moves extremely slow. There are moments when he can zoom along, but he can't fight at those speeds, which is very frustrating. In an escort mission, the helicopters he's supposed to be protecting cruised along faster than Iron Man was flying.
The dialog is snappy and quick. There are some great exchanges between the characters and it helps move the story along. However, the characters themselves look like aging versions of their movie counterparts and you will be waiting for the suit's faceplate to close just so you don't have to see Tony Stark in need of a facelift.
Posted by: Larry Frum for CNN.com
Filed under: Games • Gaming • Geek Out! • video games