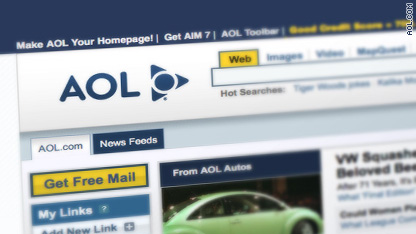 Mario takes on the Universe
AOL, an early titan of the internet that now finds itself struggling to rebrand in a vastly bigger online world, turned 25 on Monday.
In people years, 25 is young. On the internet, it makes you a wizened veteran.
At a celebration at AOL's Dulles, Virginia, campus, chairman and CEO Tim Armstrong worked to turn a celebration of the seminal web portal's past into a look at its future.
"Today's event is not just meant to honor that rich history, but celebrate the next 25 years of helping people through innovation and creativity," he said. "We're certainly proud of our past, but we're even more excited about what we have in store for customers as we move forward into the future."
To be sure, AOL's customer base is smaller than it once was in the dial-up days.
Known best for its pay e-mail service and "you've got mail!" greeting, AOL has watched a peak of 26 million customers dwindle to about 6 million by the end of last year. Its instant messenger service remains viable, although it too has slipped as people move toward text messaging and direct messages on sites like Facebook and Twitter.
But AOL's homepage remains one of the internet's most visited, ranking consistently in the top five sites and drawing about 250 million unique visitors a month, according to web analyzers comScore.
After a split late last year with CNN parent company TimeWarner (dissolving a deal that some analysts have called the worst corporate marriage in history) AOL rolled out a visual remake and a new strategy.
Focusing on advertising, a blog network and quick-hit news, AOL is stepping into areas that may not even carry the familiar AOL logos (the blue triangle and yellow "running man" have largely disappeared and AOL is now technically "aol." - with the period).
Some landmarks of AOL's first 25 years:
_ 1985: Launched as Quantum Computer Services
_ 1989: Members hear "You've got mail!" for the first time
_ 1989: Instant Messenger launches
_ 1995: AOL reaches 1 million members
_ 1996: The "running man" debuts on Instant Messenger
_ 1998: "You've Got Mail" movie is released
_ 2001: AOL and Time Warner merge
_ 2006: AOL begins offering e-mail and most of its web services for free
_ 2009: AOL separates from Time Warner. Time Warner stock that once sold at $99 hovers around $30 a share
Posted by: Doug Gross -- CNN.com producer
Filed under: Internet