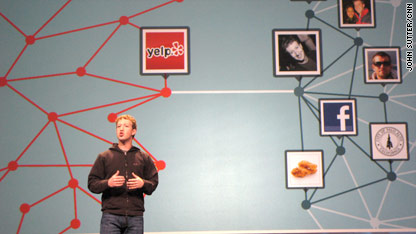 Heeding widespread concerns about how much of its users' personal data it shares on the web, Facebook said it will begin implementing simpler privacy settings on Wednesday.
"I can confirm that our new, simpler user controls will begin rolling out tomorrow. I can't say more yet," Facebook spokesman Andrew Noyes told CNN in an e-mail Tuesday.
Currently, users of the popular social-networking site must navigate through some 170 privacy options. Some Facebook members have said they're confused by the settings, while others have threatened to delete or deactivate their Facebook accounts until the site gives them more control over their info.
Tuesday's announcement suggests Facebook CEO Mark Zuckerberg is making good on a recent promise.
"There needs to be a simpler way to control your information," he wrote in an op-ed piece published Monday in the Washington Post. "In the coming weeks, we will add privacy controls that are much simpler to use. We will also give you an easy way to turn off all third-party services."
The recent backlash against Facebook came after the site, which has more than 450 million members, introduced a new tool last month to spread Facebook users' preferences and data to partner sites around the web.
Posted by: Brandon Griggs, CNN.com Tech section producer
Filed under: Facebook