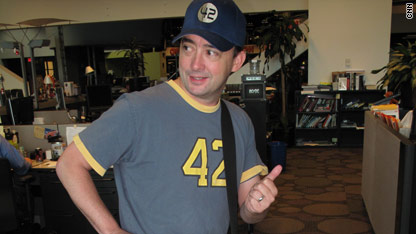 Editor's note: Geek Out! posts feature the latest and most interesting in nerd-culture news. From sci-fi and fantasy to gadgets and science, if you can geek out over it, you can find it on Geek Out! Look for Geek Out! posts on CNN's SciTech blog.
Romulans, puppeteers, hobbits - lend me your ears! Today, we geeks can gather today and celebrate all that makes us unique.
Worldwide, May 25 is known as Geek Pride Day, Towel Day (for "Hitchhiker's Guide to the Galaxy" fans like our own No. 42 above) and Glorious 25th of May, for Discworld fans.
See how some are celebrating Geek Pride Day on iReport.
Although Geek Pride Day is a relatively new holiday; founded in Spain in 2006, the Inalienable Rights of Geekdom (at least as we see them) that it celebrates are not:
1. The right to strive to be even geekier.
2. The right to not leave your house when there's plenty to entertain you there.
3. The right to not like football or any other sport.
4. The right to freely associate with other nerds.
5. The right to have a few select (inevitably awesome) friends.
6. The right to have a ton of friends - each geekier than the last.
7. The right to not be "in-style."
8. The right to be overweight/underweight/have poor eyesight and the like.
9. The right to show off your geekiness at all times.
10. The right to take over the world.
Not all geeks will agree with or adhere to all - or in some cases even most - of these rules. Everybody geeks out in their own way; that's the beauty of it.
But we can all agree that being a geek can be a good thing. Why is that?
Well, let's take a look at a couple of the great things about being a geek:
1. We can always find a game to play no matter what. We are like the MacGyver of games. Give us a pen and paper and we'll entertain ourselves and others.
2. We look good in glasses. Seriously, we do.
3. We are clever. Who was the one who everyone turned to on "Lost?" The doctor.
4. Speaking of doctors, we have Doctor Who. He's smart, funny, has a time machine and is one of the biggest geeks in the universe.
5. We can balance a checkbook. Whether we use a computer program, our raw brain power or a good old-fashioned abacus, we will not be overdrawn.
Geek Pride Day is all about looking at the best parts of being a geek, so grab your towel, stick out your thumb and tell us what your plans are - or what you've already done - for Geek Pride Day.
Share your comments below, or go to our iReport page to submit your story.
Posted by: Nikki Rau-Baker
Filed under: Geek Out!