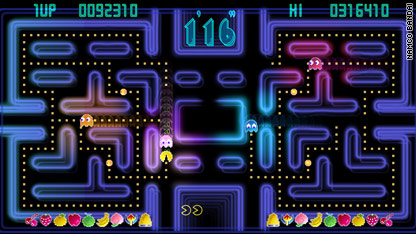 Championship Pac-Man
A productivity blog figured out that we wasted (some would say, enjoyed) over 4.8 million hours of time on Friday playing the Pac-Man game on Google.
The game was the search site's featured logo over the weekend to commemorate the 30th anniversary of the popular arcade game. The logo was actually playable and would continue for 256 levels of chomping.
The RescueTime blog did the math to figure out how much extra time people spent on Google on Friday, and how much did that time cost.
Typically, users spend an average of 11 seconds per each Google page view. RescueTime found the average user spent 36 second more on Pac-Man Friday. With 504.7 million unique visitors on May 23, that totals up to an additional 4,819,352 hours spent on Google.
Armed with that number, the blog then wanted to figure out how much productivity was lost. Assuming the average Google user has a salary of $25 per hour, the total bill comes to $120,483,800.
The game would start if the user hit the "Insert Coin" button or if the site sat idle on the Google home page for about 10 seconds. Google left it up on their homepage throughout the weekend, but gave it a permanent home to be enjoyed whenever you like.
Posted by: Larry Frum for CNN.com
Filed under: Games • Gaming • Google • pop culture • video games