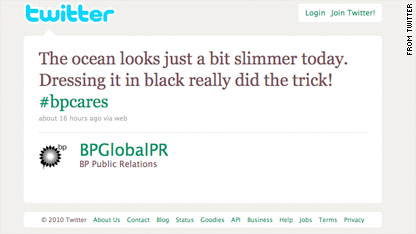 Wow ... did a BP representative really say that?
Well, no. But a satirical Twitter feed, which at first glance looks like an official BP account, is serving up a scathing daily parody of the company's efforts to clean up the Gulf Coast oil spill.
A quick read of @bpglobalpr, a Twitter account created last week, should reveal to most users that this is no BP-sanctioned public relations campaign.
"Please help us with rebranding. We're not calling it an 'oil spill' anymore, now it's a 'Southern Fun Party' #bpcares," read a post from late Tuesday.
"Funny, no one has thanked us for seasons 3-15 of Treme yet. #bpcares," read another, referencing the HBO series set in New Orleans during the aftermath of Hurricane Katrina.
The feed definitely requires an appreciation of gallows humor. Written in the voice of a clueless oil-company spokesperson, it often makes light of the spill.
From Monday: "The ocean looks just a bit slimmer today. Dressing it in black really did the trick! #bpcares."
And from last week: "Please do NOT take or clean any oil you find on the beach. That is the property of British Petroleum and we WILL sue you."
The feed's popularity is steadily climbing, with more than 38,000 followers as of Wedneday morning. By contrast, the actual BP America Twitter feed had about 5,600.
Aside from tweaking the company whose offshore oil rig exploded, dumping millions of gallons of oil into the Gulf, there may be an altruistic motive behind the Twitter account.
The feed repeatedly links to a site selling anti-BP T-shirts and claiming the proceeds will be donated to the Gulf Restoration Network, a group that works to protect and restore the Gulf region.
Whoever is behind the Twitter account did not respond to a message requesting comment for this post. A spokesman for BP said the company is aware of the Twitter feed, saying that anyone who sees it almost surely will know it's a spoof.
Posted by: Doug Gross -- CNN.com producer
Filed under: Twitter