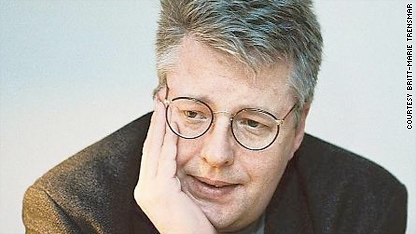 Editor's note: Geek Out! posts feature the latest and most interesting in nerd-culture news. From sci-fi and fantasy to gadgets and science, if you can geek out over it, you can find it on Geek Out! Look for Geek Out! posts on CNN's SciTech blog.
Do you know Lisbeth Salandar? The tattooed, bisexual, computer hacker is one of the most popular characters in fiction since Harry Potter. She's also the unlikely heroine of Stieg Larsson's bestselling Millennium trilogy.
The third and perhaps final book of the series set in Sweden, "The Girl Who Kicked the Hornet's Nest" hit store shelves on Tuesday but it's been a bestseller for the past several months, ranking among the top pre-orders online. The book has generated huge anticipation among U.S. readers.
It was released in Europe last fall but hardcore fans who couldn't wait have been paying $50 or more to buy the book from overseas, a practice the book's publisher calls illegal.
Nevertheless, the millions who read the "The Girl with the Dragon Tattoo" and its sequel "The Girl Who Played with Fire," are about to be rewarded in the Nordic Noir finale. The new novel picks up right where the last book ended.
Salander is in intensive care at a Swedish hospital, with several gunshot wounds, including a bullet in her brain. She's fighting for her life and facing murder charges.

The series' other main character, investigative journalist Mikael Blomkvist, must battle the police and some particularly nasty and corrupt politicians to prove Salander's innocence.
Like the two previous novels, the story starts out leisurely, with more than 100 pages of set-up, before an unexpected shooting kick starts the real action. I won't give away any spoilers but fans won't be disappointed. Larsson has constructed another complex, compelling and taut page turner.
"The Girl Who Kicked the Hornet's Nest" is equal parts detective story, courtroom drama, spy procedural, cyber-thriller and Swedish civics lesson. The book exposes the inner workings of Sweden's secret police.
It also borrows from a painful chapter in Swedish history, the assassination of Prime Minister Olaf Palme. Even though the book was written six years ago, it seems eerily relevant with its spot on look at the decline of newspapers in yet another sub-plot.
The story is packed with strong female characters. In addition to Salander, there's Blomkvist's sometimes lover, and co-editor of "Millennium," Erika Berger. Blomkvist's sister, Annika Giannini, becomes Salander's defender in court. Inspector Monica Figuerola, an officer with the secret police, and Susanne Linder, a former cop turned security expert, also play key supporting roles. Larsson even spells it out for his readers toward the end of the novel, "When it comes down to it, this story is not primarily about spies and secret government agencies; it's about violence against women, and the men who enable it."
At the heart of "The Girl Who Kicked the Hornet's Nest" is the tense relationship between Salander and Blomkvist. They're the most interesting characters and the driving force of the trilogy. Will the pair survive their ordeal, will they end up together, or even end on speaking terms? While the story finishes on a satisfying note, it's evident how the characters could have continued on. It's said that Larsson planned 10 books in the series, but he died unexpectedly in 2004 of a heart attack, before his novels were even published. Larsson never knew his worldwide success.
There are rumors of an unfinished fourth book that could be forthcoming, but for me this was a fitting end to the series. Sadly, it's the readers' loss that Larsson didn't live to see Millennium continue on.
A quick note on "Nordic noir" the nickname given to Scandinavian detective fiction and a current global publishing phenomenon. Larsson's "Millennium" trilogy may be the most popular among current titles in translation, selling as many as 27 million copies worldwide, but there are a number of authors from faraway locations like Stockholm, Oslo and Reyjavik gaining an avid following among English speaking readers around the world.
Henning Mankell, also from Sweden, runs a close second to Larsson. The 9 books in his Kurt Wallander series have sold millions of copies, spawned several films and a TV miniseries starring Kenneth Branagh.
Other popular authors include Jo Nesbo, K.O. Dahl and Karin Fossum from Norway, Ake Edwardson and Hakan Neser from Sweden and Arnaldur Indridason of Iceland. Many critics point to Per Wahloo and Maj Sjowall as pioneers of the genre. The Swedish husband and wife team penned the popular Martin Beck series from 1965 to 1975.
Fans describe Nordic noir as existential in nature, a bit like if Ingmar Bergman rewrote "The Big Sleep." The stories are less about action, and more thoughtful police procedurals, think of them as dogged detective stories set in a colder climate. The prose is sparse, simple and stripped down.
The themes are dark, even bleak at times. The characters are often gloomy, morose, and troubled. Most Nordic noir heroes are battling some sort of demons, be it alcoholism, depression, or diabetes, making them more human and empathetic to readers. In my opinion, the settings are really the key to Nordic noir's success.
A long dark night, a city blanketed in white snow, a street stained with the red blood of a murder victim and a killer on the loose. With summer on the way, what better escape for mystery fan?
Posted by: Christian du Chateau -- CNN International Producer
Filed under: books • Geek Out!