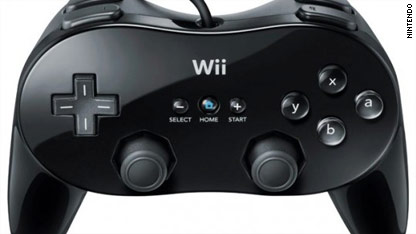 Classic Controller Pro looks vaguely familiar
At a time when other gaming-console manufacturers are ready to unveil their motion-sensitive controllers, Nintendo has released a new device that feels more old-school.
The new Classic Controller Pro looks and feels like a traditional game controller, with two joysticks, X-Y-A-B buttons, a directional pad and bumper buttons on the front. It was released in a package deal with the new "Monster Hunter Tri" game for the Wii.
Officials from Nintendo and Capcom said the bundle was done to appeal to the widest audience possible by giving them a controller that was designed for the game.
"Fans of the ["Monster Hunter"] series are used to this type of controller," said Eric Monacelli, product marketing manager for Capcom. "This is old-school. It will appeal to the hard-core player."
"It goes very well with 'Monster Hunter Tri'," added Nintendo representative Kumiko Hidaka. "Never has an accessory been so specifically designed for a game."
"Monster Hunter Tri" lets gamers become a prehistoric hunter who tries to defend his village from rampaging monsters while collecting supplies to help him with his quest. Oh, and there are constant earthquakes that need to be dealt with as well.
Creatures of all sizes live in the surrounding countryside, and the hunter's job is to clear them out, get better weapons and take on even larger monsters. The new controller allows the player to accomplish the major fighting action while offering ways to complete minor tasks (like cooking food to eat).
"Players will love this controller," Monacelli said. "It feels good for the game without taking away from any gameplay."
"Monster Hunter Tri" also allows for multiple players to band together online take down a really big monster. The game lets players use Wii Speak to communicate with each other and plan strategy, which gives the game a party feel. According to game director Kaname Fujioka, this is a big change.
"Everyone goes online and enters the same world, but not everyone has to do the same thing," Fujioka said in an "Ask Iwata" interview. "Each person can do his or her own thing, but when the group achieves the goal, everyone benefits."
The Classic Controller Pro will be compatible with nearly 400 Wii titles, Hikada said.
Posted by: Larry Frum for CNN.com
Filed under: Games • Gaming • Nintendo • video games