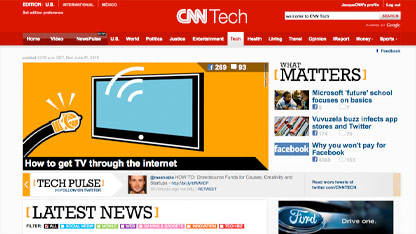 No, we haven't stopped providing awesome content for your geeked-out brain - CNN Tech's newest posts have just gotten a new look and a new location. Our redesigned section at CNN.com/TECH has become your one-stop blog for the latest in tech news, including social media, mobile, web, gaming & gadgets and innovation.
All of our stories, videos and interactives are now posted there so you can easily access and filter them by the topic you're most interested in.
There are a ton of new and continuing columns from Tech experts like Mashable's Pete Cashmore and Netiquette specialists Andrea Bartz and Brenna Ehrlich.
Want to know more about what's coming up next in the world of science and technology? Check out our own John Sutter's weekly innovation piece at the CNN Tech Lab.
We've also collected our favorite Twitter feeds and streamed them onto our blog's Tech Pulse so you can keep up with the latest developments without leaving the page.
Of course, we still want to hear from the most important people - you. Which is why our Tech page has great user-generated feedback, like Facebook recommend and our ever-popular comment sections.
Keep in mind that the easiest way to get all this content is by sending it straight to your computer, whether that's through our CNNTech Twitter account or our RSS feed.
So whether you've been a loyal follower of the SciTechBlog for years or are just stumbling upon this for the first time, please head on over to CNN.com/TECH.
Filed under: CNN Labs • Internet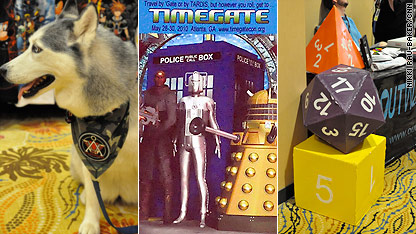 TimeGate
Editor's note: Geek Out! posts feature the latest and most interesting in nerd-culture news. From sci-fi and fantasy to gadgets and science, if you can geek out over it, you can find it on Geek Out! Look for Geek Out! posts on CNN's SciTech blog.
Nothing like a long weekend to kick off the convention season!
I started my annual journey to conventions with TimeGate. TimeGate is an intimate, up and coming science fiction convention that focuses on two distinct fandoms: Doctor Who and Stargate.
Walking into the convention fans were greeted by a "Gate" in addition to tables filled with collectibles from Stargate and Doctor Who - but also Steampunk, "Battlestar Galactica," and several other space-faring genres. Among the guests at TimeGate this year was Carmen Argenziano, a fantastic actor who portrayed Jacob Carter/Selmak in SG-1. One of the things we discussed was what he drew upon to get the emotions flowing for the character.
Argenziano mentioned his uncle, who was in the military and lost a brother in the war, as a mentor and influenced on how he played the role of Jacob. He also mentioned the small steel mill town in Pennsylvania where he grew up as a place where he learned about honor and sense of national identity.
When asked what his favorite SG-1 tech was he said with a smile that he loved "being in the cockpit of the spaceships pretending to modulate dials and drive the ship."
One of the biggest parts of any good sci-fi show is the music and there are few more notable theme songs than that of Doctor Who. One of the people who shaped the iconic theme is Dominic Glynn, composer and musician.
When asked what his favorite Doctor Who gadget is he responded that it he loved the TARDIS and that if given the chance to take the TARDIS anywhere he would like to see the end of the world. He promised, however, that he would help the Doctor save the world - as long as he was able to "write a really good piece of music to accompany it."
In talking with several other people at the convention about what their favorite piece of tech from either Stargate or Doctor Who would be, the answers ranged from the Doctor's sonic screwdriver to the Stargate itself. The driving force behind those answers seemed to be the ability to explore new places and see new things.
Alan Silers, one of the co-founders of TimeGate even mentioned the Daleks as a great piece of tech - well written and with an important purpose in the world of Doctor Who.
When I asked him if he thought something like the TARDIS would be possible in our lifetime, he didn't seem too sure, saying with a laugh that "even with as much as technology changes and grows at a rapid pace in our life, gaining some sort of mastery over time … that's a huge one."
So, although we might not be chosen as a companion to the next Doctor or get the chance to travel to another universe, we can read about them, dress up as our favorite characters from the shows and even buy our own small piece of the fandom at not only TimeGate, but the other conventions that are getting ready to start. After all, summer is just starting and so is con season.
Posted by: Nikki Rau-Baker for CNN
Filed under: Geek Out!