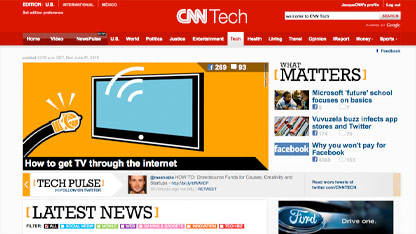 No, we haven't stopped providing awesome content for your geeked-out brain - CNN Tech's newest posts have just gotten a new look and a new location. Our redesigned section at CNN.com/TECH has become your one-stop blog for the latest in tech news, including social media, mobile, web, gaming & gadgets and innovation.
All of our stories, videos and interactives are now posted there so you can easily access and filter them by the topic you're most interested in.
There are a ton of new and continuing columns from Tech experts like Mashable's Pete Cashmore and Netiquette specialists Andrea Bartz and Brenna Ehrlich.
Want to know more about what's coming up next in the world of science and technology? Check out our own John Sutter's weekly innovation piece at the CNN Tech Lab.
We've also collected our favorite Twitter feeds and streamed them onto our blog's Tech Pulse so you can keep up with the latest developments without leaving the page.
Of course, we still want to hear from the most important people - you. Which is why our Tech page has great user-generated feedback, like Facebook recommend and our ever-popular comment sections.
Keep in mind that the easiest way to get all this content is by sending it straight to your computer, whether that's through our CNNTech Twitter account or our RSS feed.
So whether you've been a loyal follower of the SciTechBlog for years or are just stumbling upon this for the first time, please head on over to CNN.com/TECH.
Filed under: CNN Labs • Internet