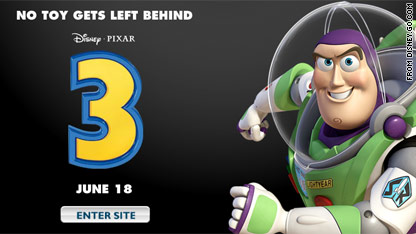 UPDATE 5:30 p.m. ET: Disney Online spokeswoman Dana Henry Benson says "Toy Story 3" has an iPad-specific website, but a glitch caused some iPad users to hit the Flash site, which wouldn't load. That bug has since been fixed, she said in an e-mail to CNN.
"Toy Story 3" has a nice website.
You can play games with Rex the dinosaur, and learn how to make "Green Alien Cupcakes."
But, for a brief time, some Apple iPad users were haven't a tough time viewing it on their touch-screen computers.
That Disney website is built in Flash format, which, as screen grabs show, means it didn't work at one point on Apple's iPad, iPhone or iPod Touch.
Big deal, right? Lots of websites are built in Flash, and many of them don't work on Apple gadgets (there's a workaround for some Flash video). But it's kind of amusing when you consider the fact that Apple CEO Steve Jobs, who has been posting lately about how much of a problem Flash is, was a Pixar co-founder and now serves on Disney's board of directors.
Disney Online says a glitch prevented iPad users from viewing the site, but an iPad-specific website is now working.
The faux pas stirred up some jokes online.
As a Wall Street Journal blog says in a headline, "Whoever Built the 'Toy Story 3' Web Site in Flash, Please Report to HR Immediately–and Bring Everything in Your Desk With You."
(via AllThingsD)
Posted by: John D. Sutter -- CNN.com writer/producer
Filed under: Adobe • Apple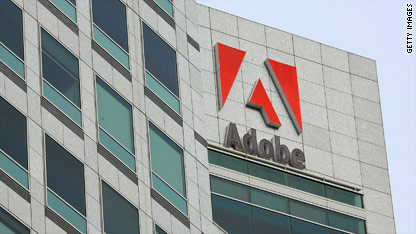 It was already at reality-show proportions. But the tech feud between Apple and Adobe continues to escalate as Adobe responded Thursday to Apple CEO Steve Jobs' sharp criticism of its Flash player format.
The gist from Adobe: So what? We have other friends to play with.
"... Given the legal terms Apple has imposed on developers, we have already decided to shift our focus away from Apple devices for both Flash Player and AIR. We are working to bring Flash Player and AIR to all the other major participants in the mobile ecosystem, including Google, RIM, Palm (soon to be HP), Microsoft, Nokia and others," Adobe's chief technology officer, Kevin Lynch, posted in a blog on Thursday evening.
Lynch said that he still holds out hope Apple and Adobe can work together on the mobile Web.
"We could provide a terrific experience with Flash on the iPhone, iPad and iPod touch," he wrote.
This comes after Jobs posted a missive about flaws with Adobe's Flash. He said the format leads to crashes, hinders app development and doesn't work well with touch-screen devices. That's why Apple does not support Flash video or games on the iPad, iPhone or iPod, he wrote.
Adobe says it has other plans for Flash.
"We look forward to delivering Flash Player 10.1 for Android smartphones as a public preview at Google I/O in May, and then a general release in June. From that point on, an ever increasing number and variety of powerful, Flash-enabled devices will be arriving which we hope will provide a great landscape of choice," Lynch wrote.
Now that both companies have weighed in - all blog style - who do you side with?
Read the source material for yourself (Apple | Adobe) and let us know in the comments. Several of you posted yesterday that you thought Steve Jobs was right to snub Flash.
Posted by: John D. Sutter -- CNN.com writer/producer
Filed under: Adobe • Apple