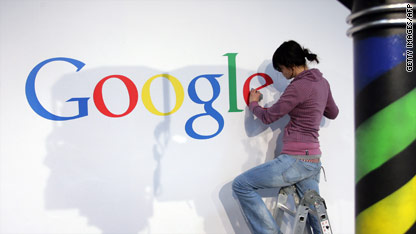 By some accounts, this week hasn't been so great for Google.
The first bit of bad news concerns sales of Google's Nexus One phone.
On Tuesday, the market analytics firm Flurry released a report saying initial sales of Google's Nexus One phone have been slim compared to the Droid and the iPhone. The firm compared sales of those those phones over the first 74 days they were on the market. In a blog post, Flurry says it chose that time period because that's how long it took the original iPhone to sell 1 million handsets when it was released in 2007.
By comparison, only 135,000 Nexus One phones were sold in that phone's first 74 days. More from Flurry's post:
As Google and Apple continue to battle for the mobile marketplace, Google Nexus One may go down as a grand, failed experiment or one that ultimately helped Google learn something that will prove important in years to come.
Google responded to that news by playing up the Android Market, the online store where people with Android phones - like the Nexus One and Droid - buy applications, according to Engadget. 
Google issued a statement to CNN, saying:
We're pleased with our sales volumes and with how well the Nexus One has been received by our customers. The Nexus One is one of a fast growing number of Android handsets which have been brought to market through the open Android ecosystem. Our partners are shipping more than 60,000 Android handsets each day compared with 30,000 just three months ago.
Not everyone says this news is so bad, though. Concern about the Nexus One's slow start is "more than a little ridiculous," writes Derek Thompson at The Atlantic:
Google is still a software company dabbling in hardware. And its mobile smart phone software is very, very good.
The other potentially troublesome story concerns Google's search traffic.
Microsoft's Bing search engine appears to be making slight inroads on Google, which still dominates that territory. A Nielsen report, issued Monday, found Microsoft searches in February made up 12.5 percent of the search market, compared to 10.9 percent in January. Meanwhile, Google still accounts for 65.2 percent of all U.S. searches.
The Wall Street Journal's D: All Things Digital blog notes that the shift in the search market is "slow going":
... Bing is clearly whittling away at both Google and Yahoo's search market share. Of course, the flip side is that with Yahoo in decline, the search side of the Microsoft-Yahoo partnership isn't showing all that much growth.
What do you think? Is Google, clearly one of the world's dominant tech companies, in any trouble here?
Was its jump into the mobile phone hardware market misguided, or do you think Nexus One sales may still take off? We welcome your thoughts in the comments section below.
Posted by: John D. Sutter -- CNN.com writer/producer
Filed under: Android • Google • iPhone • Microsoft Corp.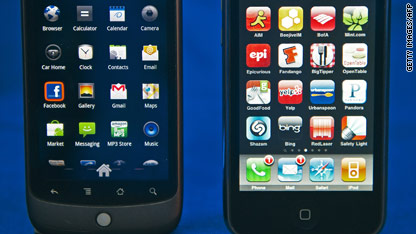 After noticing that he had exactly 911 unread e-mails on his phone, a colleague of mine, Victor Hernandez, decided to share this moment of emergency info overload with his Twitter posse.
He posted a photo of his iPhone home screen online, and that photo was met with reactions he didn't expect.
People didn't care about how many unread e-mails he had.
They just wanted to see which apps he had on his home screen.
"Love seeing what is on the front screen of people's iPhones," one of his followers wrote, noting that she found it funny that Hernandez had prioritized the iSamJackson app. "Says so much about you."
Hernandez stumbled into a possible cultural trend: Phone home screens have become yet another marker of a person's identity. iPhone and Android phone users download an average of nine apps (mobile phone programs) per month, according to a February report by AdMob (PDF). But only 20 apps will fit on the iPhone's rigidly organized home screen, and people tend to put the apps they use most often, or think are the most important, on that starter screen. Maybe the way people arrange these home screens says something about their daily lives and preferences.
Apple, always quick to draw links between its gadgets and its users' personalities, has an entire Web page devoted the iPhone home screen and how to make use of it. So does Google's Android platform.
Hernandez and CNN iReport asked our readers to send in photos of their phone home screens. They were excited to find that no two submissions were alike. Many are quite similar, however, since the iPhone does come with a number of apps preset to run on the home screen, and most of the submissions iReport received were from iPhone owners.
Some home screen submissions highlighted games; others put news apps out front. Some "jailbroken" phones featured customized backgrounds.
Take a look at these photos and let us know what you think. Does a phone home screen really say something about who a person is, or is that corporate and contrived? If it is significant, what types of apps are most essential to you, and why? Does it matter that phone home screens are usually hidden to everyone except the phone's user?
Maybe that secrecy is part of the allure.
Posted by: John D. Sutter -- CNN.com writer/producer
Filed under: Android • Apps • iPhone • smartphones