April 5, 2010
Posted: 10:30 AM ET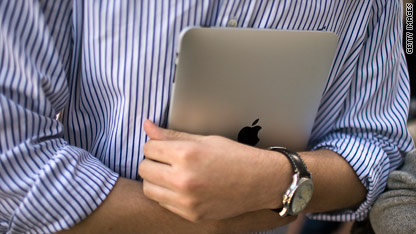 After months of hype, dozens of reviews, plenty of television promos and an Easter weekend appearance at an Apple store by the high priest of gadgetry himself, Apple CEO Steve Jobs, the company's long-awaited iPad is finally in the hands of consumers.
So how did they like it? Is the iPad a runaway early success? Here are a few ways to measure:
Sales: On Saturday, the day the product was released, Apple says it sold 300,000 iPads. Analysts estimate the company sold between 300,000 to 700,000 of the touch-screen "slate" computers over the weekend.
[Read the full story on sales at CNNMoney.com]
Anticipation: 300,000 iPads is about what analysts expected Apple to sell on opening day.
Comparison: The iPhone - which some think is basically a smaller version of the iPad - launched in 2007 as Apple's greatest hit in recent memory. Analysts estimated 200,000 iPhones were sold on the day it debuted, which is a third less than the iPad. The iPhone sold its millionth unit 74 days after it hit the market.
Reviews: The mainstream press wrote mostly glowing reviews for the iPad in advance of its release on Saturday. Some consumers have expressed disappointment with their purchases. Others find pros and cons, but many say they really love the device. [Here's a wrap-up of reviews from CNN iReporters].
Mainstream appeal: By some accounts, most of the people who bought iPads already were Apple fans - i.e., nearly three-fourths of them already owned a Mac, according to a Piper Jaffray survey. How the device will fare with people outside the Cult of Mac is a question up for debate.
Apps: Apps - or the games, applications and programs that run on a gadget - really made the iPhone sing with consumers, because apps determine what a device can do. More than 1,000 apps have been designed specifically for the iPad's 9.7-inch screen, and the New York Times says developers are rushing to update them now that the device is out. Consumers already have downloaded more than 1 million iPad apps, according to an Apple press release - so that's about three apps per iPad to date.
Revolution: Some analysts expect the iPad to revolutionize the area of tablet computing, which Microsoft and others have tried to push on consumers in the past, but with only limited success. The iPad's success may buoy the entire tablet market, says USA TODAY. The newspaper says once-stale tablets "may be the new hot thing."
Debauchery: Finally, if the hackers don't like your gadget, you know you have a problem. But, in what could be read as a good or bad sign for Apple, a video of someone "jailbreaking" the iPad has already surfaced.
Have you gotten your hands on an iPad? If so, let us know what you think of it, either by posting a comment below or by submitting a video to this CNN iReport assignment. (You can find other consumer reviews there, too).
Also, if you still have questions about what the iPad is and what exactly it does (don't worry, some people in line to buy the device still were unsure of what it was), here are two guides to understanding the iPad, and picking the right one.
Posted by: John D. Sutter -- CNN.com writer/producer
Filed under: Apple • Apps • iPad
April 2, 2010
Posted: 01:42 PM ET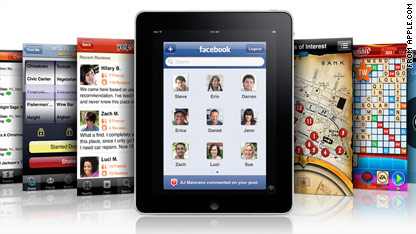 So what exactly can you do with the new Apple iPad?
That question will likely be best answered by what apps - or mobile applications - become available for the touch-screen device.
Ahead of the iPad's Saturday release, Apple decided on Thursday to put more than 2,500 iPad apps up for sale on its App Store, giving techies a first glimpse at an answer to that all-important question.
Reviewers who already have the iPad are weighing in. Note that these apps are generally pricier than those for the iPhone or iPad Touch. The big difference? iPad apps are bigger, allowing for fancier designs.
Here are a few iPad apps that caught our eye:
eBay: It's free and has bigger photos of products, theoretically making it easier and faster to sort through them.
Marvel Comics: The iPad's 9.7 inch screen shows off color books better than grayscale e-readers.
The Elements: Reviewers are in love with this app, which is basically a multimedia e-book about the periodic table of elements (think of your childhood place-mat gone digital). The price is steep, though, if you're used to $0.99 iPhone apps. It sells for $13.99.
NBA: Reviewers say this app is great for statistics fans, since graphs and court diagrams are easier to show off on a bigger screen.
Epicurious: The preview photos of this recipe-book app look pretty cool. And the app is free.
Netflix: You still need a Netflix subscription, but this free app lets you stream movies and TV shows offered by Netflix onto the iPad's large screen.
EA games: Scrabble, Need for Speed and Tetris are getting buzz from CNET. Some gamers hope the large screen will make games more engaging on the iPad than on the iPhone. Others are skeptcial. Some titles could just look over-inflated.
Box.net: Sites like Box.net and Dropbox archive documents "in the cloud," so you can access them from anywhere. Wired says these services are a whole lot easier to use on the iPad's big screen.
iWork: Apple's suite of apps costs $9.99 and are aimed at business and student types. They help you create presentations, documents and spreadsheets.
Check out the Apple App Store through iTunes to see a full list of the iPad apps available now, with prices and screenshots. With the exception of the iWork apps, we haven't tried these programs yet, but we'll report back as soon as we get our hands on an iPad.
Posted by: John D. Sutter -- CNN.com writer/producer
Filed under: Apple • Apps • Games • iPad
April 1, 2010
Posted: 01:13 PM ET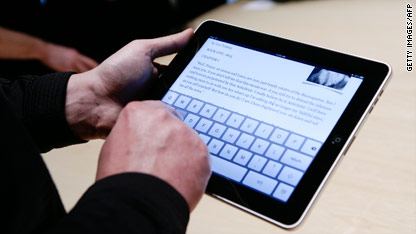 In case you've been sleeping under a rock with your iPhone turned off, there's some big tech news coming up on Saturday: Apple's iPad goes on sale. And the pundits are already chiming in.
Here's a point-by-point about this new "slate" computer, which is like a touch-screen laptop without a keyboard, or, as The New York Times writes, "basically a gigantic iPod Touch."
Overall impressions: Most tech reviewers are pretty gaga over the iPad, but there's some variance in how much they love the device. The Chicago Sun-Times is ready for a commitment ceremony, declaring the iPad "pure innovation" and "one of best computers ever." The New York Times isn't as sold.
Typing: The iPad doesn't have a keyboard, so you have to tap on the screen the screen to type. NYT says it's "barely usable," plus: "When the very glossy 9.7-inch screen is off, every fingerprint is grossly apparent." Wall Street Journal takes the opposite view: "I found the iPad virtual keyboard more comfortable and accurate to use than the cramped keyboards and touchpads on many netbooks."
Better than a laptop?: WSJ says the iPad is "pretty close" to being a laptop killer.
Multitasking: You can't run more than one program at once on the iPad, which disappoints the blog Engadget: "There's no multitasking at all. It's a real disappointment. All this power and very little you can do with it at once. No multitasking means no streaming Pandora when you're working in Pages ... It's a real setback for this device."
Creating documents: The WSJ likes the virtual keyboard, but doesn't think it will work for all business functions: "If you need to create or edit giant spreadsheets or long documents, or you have elaborate systems for organizing e-mail, or need to perform video chats, the iPad isn't going to cut it as your go-to device."
Multimedia books: BoingBoing says colorful, clickable books and apps make the iPad. It highlights those from Marvel Comics, Reuters news agency and the Epicurious recipe site.
Color books: USA TODAY says the fact that your can read books in color on the iPad is a big deal. You can't do that on many e-reader competitors: "Judged solely from a sizzle standpoint: There's no contest. Titles on the iPad such as Winnie the Pooh (which comes preloaded on the iPad) boast colorful illustrations. The 6-inch Kindle screen is grayscale."
No Flash: The iPad doesn't support Flash video. NYT: "Apple has this thing against Flash, the Web's most popular video format; says it's buggy, it's not secure and depletes the battery. Well, fine, but meanwhile, thousands of Web sites show up with empty white squares on the iPad — places where videos or animations are supposed to play."
Cameras: The iPad doesn't have a camera, which means you can't use it for video conferencing. USA TODAY makes another point along these lines: There's no USB connection to hook up the camera you already have. But the paper says there's a workaround: "Some will decry the absence of a USB port or other connectors, which might let you hook up a printer or bolster storage. Everything comes through the standard iPod-like dock connector on the bottom of the iPad. You can purchase a $29 iPad Camera Connection Kit..."
Maps: "Maps become real maps, like the paper ones" on the iPad's larger screen, NYT says.
Love factor: Some writers seem to be just downright in love with the device. Scary in love with it. From BoingBoing: "The form just feels good, not too lightweight or heavy, nor too thin or thick. It's sensual. It's tactile ... the iPad hits a completely new pleasure spot."
Anything else you want to know about the forthcoming pleasure device known as the iPad? Let us know and we'll do our best to find you answers. Also, if you pick up an iPad on Saturday, let us know what you think at this CNN iReport assignment.
Posted by: John D. Sutter -- CNN.com writer/producer
Filed under: Apple • Apps • iPad
March 19, 2010
Posted: 11:15 AM ET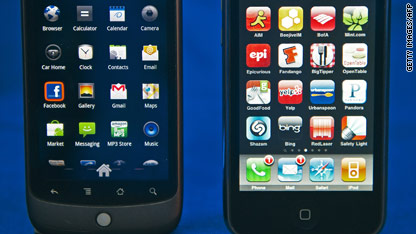 After noticing that he had exactly 911 unread e-mails on his phone, a colleague of mine, Victor Hernandez, decided to share this moment of emergency info overload with his Twitter posse.
He posted a photo of his iPhone home screen online, and that photo was met with reactions he didn't expect.
People didn't care about how many unread e-mails he had.
They just wanted to see which apps he had on his home screen.
"Love seeing what is on the front screen of people's iPhones," one of his followers wrote, noting that she found it funny that Hernandez had prioritized the iSamJackson app. "Says so much about you."
Hernandez stumbled into a possible cultural trend: Phone home screens have become yet another marker of a person's identity. iPhone and Android phone users download an average of nine apps (mobile phone programs) per month, according to a February report by AdMob (PDF). But only 20 apps will fit on the iPhone's rigidly organized home screen, and people tend to put the apps they use most often, or think are the most important, on that starter screen. Maybe the way people arrange these home screens says something about their daily lives and preferences.
Apple, always quick to draw links between its gadgets and its users' personalities, has an entire Web page devoted the iPhone home screen and how to make use of it. So does Google's Android platform.
Hernandez and CNN iReport asked our readers to send in photos of their phone home screens. They were excited to find that no two submissions were alike. Many are quite similar, however, since the iPhone does come with a number of apps preset to run on the home screen, and most of the submissions iReport received were from iPhone owners.
Some home screen submissions highlighted games; others put news apps out front. Some "jailbroken" phones featured customized backgrounds.
Take a look at these photos and let us know what you think. Does a phone home screen really say something about who a person is, or is that corporate and contrived? If it is significant, what types of apps are most essential to you, and why? Does it matter that phone home screens are usually hidden to everyone except the phone's user?
Maybe that secrecy is part of the allure.
Posted by: John D. Sutter -- CNN.com writer/producer
Filed under: Android • Apps • iPhone • smartphones
March 17, 2010
Posted: 03:10 PM ET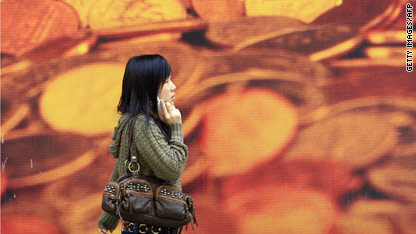 Everyone hates that confusing moment when the check arrives at a large dinner party. Some people want to pay with credit cards, some with cash - and some try to not pay at all. But a new iPhone application, launched on Tuesday, aims to make the whole bill-splitting process a little bit easier.
The app, "Send Money," was created by PayPal, which allows members who sign up to send money to others in a secure way online. The first version of the Send Money app simply transferred money to anyone on a phone contact list. But the company this week announced a partnership with Bump Technologies to allow an iPhone user to simply tap phones with another iPhone user as a way to transfer funds.
More people are now transferring money online. PayPal mobile transactions have dramatically increased even just last year from $25 million in 2008 to $141 million in 2009. And Bump, which is less then a year old, has broken out as the primary technology company that transfers information wirelessly, with just a bump of two phones.
In order to support PayPal's wide reach, Bump had to translate his service into 18 languages. "We could not be more excited," Bump co-founder Jake Mintz said. "We think bumping money is an incredibly powerful interaction."
So now when the check comes at dinner, the "Split Check" feature allows users to divide the check and quickly reimburse each other by bumping iPhones. Or if you owe someone else money it is now simpler than ever to now have them be reimbursed.
PayPal's vice president of platform and emerging technology, Osama Bedier, says this new application also means people won't have to carry as much stuff around with them. "Today, you leave the house with three critical things: your phone, your wallet and your keys," he said. "PayPal Send Money lets consumers access their wallets through their phones. Because with PayPal, the wallet lives in the cloud – the mobile phone is just one device customers can use to access it."
Posted by: Eric Kuhn for CNN.com
Filed under: Apps • Bump • PayPal • smartphones