He's the tech president - the one who totes around a BlackBerry, and who gave the Queen of England an iPod as a gift.
But in a commencement address at Hampton University in Virginia on Sunday, U.S. President Barack Obama said there's a darker side to the technologies that have helped build his image as a hip and digitally enabled public servant.
"With iPods and iPads; and Xboxes and PlayStations - none of which I know how to work - information becomes a distraction, a diversion, a form of entertainment, rather than a tool of empowerment, rather than the means of emancipation," he said in the address, according to a transcript posted by KTKR. "So all of this is not only putting pressure on you; it's putting new pressure on our country and on our democracy."
Education is the key to keeping these digital distractions in check, Obama said.
"Class of 2010, this is a period of breathtaking change, like few others in our history," he said. "We can't stop these changes, but we can channel them, we can shape them, we can adapt to them. And education is what can allow us to do so. It can fortify you, as it did earlier generations, to meet the tests of your own time."
Some tech bloggers sympathized with the concerns.
"I worry that some of these students will have been tweeting his words from their cell phones as he spoke them," writes Chris Matyszczyk at CNET.
Others find the comments curious, given Obama's history of promoting digital information.
"Since Obama coordinated his entire campaign on his Blackberry (sic), his comments here border on hypocrisy," writes a commenter called "Camp David" on an AppleInsider forum.
In a 2009 interview with CNBC, Obama sounds rather attached to that BlackBerry:
"I'm still clinging to my BlackBerry," he said, according to an online transcript. "They're going to pry it out of my hands."
Given his apparent tech literacy, I wonder if Obama was kidding about not knowing how to work an iPod, iPad, Xbox or PlayStation. During the 2008 presidential campaign he told Rolling Stone his iPod contained songs by Bob Dylan, Jay-Z and cellist Yo-Yo Ma, among others. Presumably, his staffers didn't turn it on and work it for him.
I watched a YouTube clip of the speech to get more context. Check it out for yourself (the tech comments start at 7:50 on the timeline) and let us know what you think. People did laugh at the remark. (Here's a similar cut on CNN)
Does Obama have a point? He seems to be focused more on criticizing the speed and potential inaccuracy of digital information than these gadgets, in particular. (From the speech: "You're coming of age in a 24/7 media environment that bombards us with all kinds of content and exposes us to all kinds of arguments, some of which don't always rank that high on the truth meter.")
Or do these comments seem disingenuous? Can the president who gave the Queen an iPod really not know how to use one himself? Let us know in the comments (and try not to ruin democracy while you're at it).
Posted by: John D. Sutter -- CNN.com writer/producer
Filed under: Barack Obama • BlackBerry • iPad • iPod
The New York Times has a tech story today that's too interesting not to share.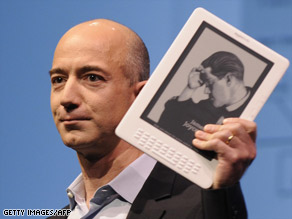 The paper says that the new, larger Amazon Kindle - which has been talked up as a savior for books and newspapers - has "a ways to go" when it comes to pronouncing some newsworthy words.
Chief among them: Barack  and Obama.
From what the paper says, the Kindle gives the president's name a sort of hard-vowel, Midwestern flair:
In particular, the voice of the Kindle mispronounces two important words that show up often in the pages of newspapers: "Barack" (the device rhymes it with "black") and "Obama" (sounds like "Alabama").
The science behind computerized voice features has come a long way, but apparently still has a ways to go.
This CNN story has more on how the voice technology works, and points out that a debate over rights for audiobooks has sprung up with the technology:
Today's synthetic voices can't match human talent (such as an actor hired to read audio books). But they do enable some interesting options.
For instance instead of having just one narrator, you can switch between voices, including male and female, as on the Kindle 2. You might not use this option, but it's there, and it will likely get better over time. Hemingway with a feminine touch, anyone?
The Kindle uses voice technology from Nuance Communications, which can create all kinds of voices. The Kindle gives users limited selection, but it's easy to imagine future reading devices offering a wide variety. Each voice lends its own effect.
Posted by: John D. Sutter -- CNN.com writer/producer
Filed under: Barack Obama • books • Internet