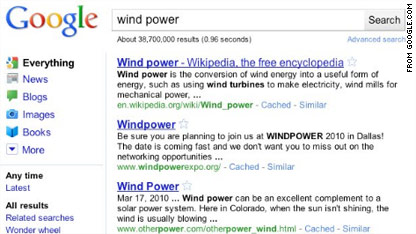 If you search for information on Google today, you may notice the results have a slightly new look.
The world's dominant search engine on Wednesday announced some changes that it refers to as its "spring metamorphosis."
"Today's metamorphosis responds to the increasing richness of the web and the increasing power of search — revealing search tools on the left and updating the visual look and feel throughout," Google says in a blog post.
"While we are constantly rolling out small changes and updates, today's changes showcase the latest evolutions in our search technology, making it easier than ever to find exactly what you're looking for."
Some changes are largely cosmetic: Navigation that was at the top of the page is now in a redesigned column on the left, for example. That column also lets searchers filter their results by category, potentially making it easier to shuffle from news stories to images and blog posts in the same search.
MercuryNews.com also says the Google logo changed slightly, and that the search box is now larger.
Here's some detailed analysis from the site Search Engine Land.
Google still dominates the search world, with 70 percent of the market share, according to a March report from Hitwise, which monitors internet traffic.
But it has come under threat lately from Facebook, which recently unveiled a plan to stretch into the rest of the internet, making it more social, and potentially taking away some of the power of Google's links; and from the growth of Bing, a rival search engine from Microsoft, which bills itself as more visual than Google. Bing has about 10 percent of the search market, Hitwise says.
Check out Google's changes and let us know what you think. Is Google just trying to get attention for some cosmetic shifts? Or are these changes significant?
Also note that even look-and-feel changes to search engines can be a big deal.
When Bing, for example, darkened the shade of its blue links, the company reportedly earned an extra $80 million in annual revenue.
Posted by: John D. Sutter -- CNN.com writer/producer
Filed under: Bing • Google • search engines