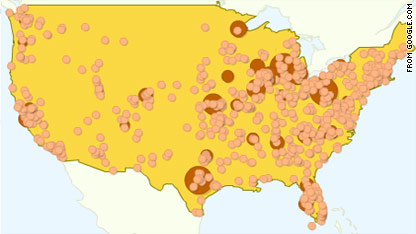 The mayor of Sarasota, Florida, swam with sharks. Topeka, Kansas, temporarily changed its name to Google, Kansas. And in Duluth, Minnesota, the head of city government jumped into a frigid lake with ice chunks floating on the surface.
Why? To beg Google for better broadband.
More than 1,100 cities and towns have asked Google to speed up their Internet connections as part of the company's "Google Fiber" project. The search-engine giant says it will build the infrastructure for affordable, ultra-high-speed Internet connections in one or more communities, with the hopes of serving 50,000 to 500,000 people. Google plans to choose the winning community or communities by the end of the year.
The Mountain View, California-based company thanked mayors across the country for submitting "tremendous and creative" requests that the experimental network be build in their cities.
"We're thrilled to see this kind of excitement, and we want to humbly thank each and every community and individual for taking the time to participate," project manager James Kelly wrote on Google's blog.
"This enthusiasm is much bigger than Google and our experimental network. If one message has come through loud and clear, it's this: people across the country are hungry for better and faster Internet access."
Google says its connection will be hundreds of times faster than average Internet speeds in the U.S. today - with data transfer rates of 1 gigabit per second. Google hopes to accomplish that speed by bringing fiber optic cables straight to peoples' homes.
The country's average broadband speed ranked 18th in the world in a recent report from Internet monitor Akamai. South Korea was the world leader. Iceland, Latvia and Slovakia both had connection speeds faster than those in the U.S.
In addition to the 1,100 official requests from communities, more than 194,000 individuals wrote Google asking the company to install faster connections in their areas.
This all comes as the U.S. federal government debates a plan to speed up Internet connections across the country, and to make the Web more accessible to Americans.
What do you think makes Google's fiber-to-the-home project so popular with mayors? Would you jump in a near-frozen lake for better broadband? Let us know with a comment on this post.
Posted by: John D. Sutter -- CNN.com writer/producer
Filed under: broadband • Google • Internet