May 4, 2010
Posted: 01:19 PM ET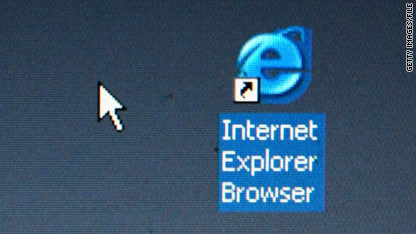 Many people complain about Microsoft's Internet Explorer. There have even been campaigns to kill old versions of the Web browser.
But despite the haters, IE has always remained way on top. In June 2002, 95 percent of computers accessed the Internet through the product, which comes installed as the default web-surfing tool on Microsoft Windows computers.
IE remains dominant today. But, compared to its heights in the early 2000s, it's slipping. This week, the market researcher NetApplications released a report saying IE has fallen to less than 60 percent of the browser market.
Meanwhile, alternative browsers like Google's Chrome and Mozilla's Firefox are catching up a bit.
Firefox makes up nearly a quarter of the browser market; and newer Chrome is at about 7 percent, up from about 2 percent a year ago in May.
A new version of Internet Explorer - IE9 - is expected to debut soon.
Gartner analyst Jeffrey Mann tells the BBC that alternatives to IE continue to catch consumer attention:
"There are more viable alternatives now. Google has been advertising and there are more people using Macs and Apple's Safari. There is just a great awareness that there are alternatives," he says.
That's impressive, considering there's plenty of anecdotal evidence that many Web users don't know what a browser is. (If you're one of them, don't feel bad. It's the program you open in order to access the internet. It's what you're using to view this story.)
What do you make of IE's slipping market share? Which browser do you use and why?
[via BBC Tech]
Posted by: John D. Sutter -- CNN.com writer/producer
Filed under: browsers • Internet
December 21, 2009
Posted: 11:44 AM ET
Yikes. According to Symantec, the fourth most popular search term for children 7 and under is "porn" - just ahead of kids' networking site Club Penguin.
[cnn-photo-caption image=http://i2.cdn.turner.com/cnn/2009/images/12/21/kids.search.gif caption="Symantec's top searches for 2009 arranged by age group" height="218"]Symantec recently released the anonymous results of 14.7 million searches run by users of its OnlineFamily.Norton service in 2009. The service allows parents to monitor web activities and supposedly blocks questionable sites, so let's hope the toddlers searching for "porn" were unsuccessful.
It's understandable that "sex" is one of the top searches for teens, but I was surprised to see that children as young as 7 were familiar with "porn." While services like OnlineFamily.Norton may filter most inappropriate content, they are not perfect - and are no substitute for parental supervision.
Other search terms popular with children included social-networking sites, celebrities and online games.
Interestingly, "Google" was also a top search term, which leads me to believe a lot of kids don't really understand how search engines work.
Posted by: Wes Finley-Price -- CNN.com Webmaster
Filed under: browsers • Google • Internet • online news
October 13, 2009
Posted: 09:41 AM ET
Popular ad-blocking Firefox add-ons, such as AdBlock and Skipscreen, are upsetting some Web site owners who generate revenue from advertisements.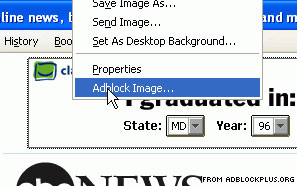 In a recent article, TechDirt clashes with several blog owners who claim users of ad blockers are stealing.
Michael Lankton of Connected Internet argues:
When you come to one of my websites you are absolutely welcome to not click any of the ad links. You are equally at liberty to not pay attention to the ads should you so choose. I will also make a promise to the user that the monetization of my sites will not be intrusive and will not draw undue attention to itself.

That said, if you block the ads on my site, pound sand. It's practically like you are stealing from me.
File host MediaFire has responded to the the add-on SkipScreen, which allows users to skip its ads, by firing off a legal takedown notice to Mozilla.
However, Mozilla has refused to honor the takedown request. And the Electronic Frontier Foundation supports Mozilla's decision:
Free file hosting provider MediaFire seems to think that, when you follow a link to download a file from its service, it has the right to control your browser. This is yet another example of a web site owner forgetting that it's your computer, and it's none of their business how you choose to experience their web pages.
So what do you think? Would you use an application that blocked ads from appearing, even if those ads supported the site you were visiting?
Posted by: Wes Finley-Price -- CNN.com Webmaster
Filed under: browsers • Internet
August 14, 2009
Posted: 11:28 AM ET
Here's a round up of a few tech stories you should know about before heading into the weekend.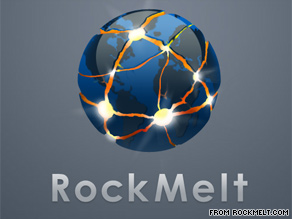 Microsoft: A group of Web developers is out to kill Microsoft's Internet Explorer 6 Web browser. But, according to the BBC, the software giant is standing behind the product - in part because it has to keep the browser going for corporate customers:
"Friends do not let friends use IE6," Amy Barzdukas, Microsoft's general manager for Internet Explorer, told the network.

"If you are in my social set and I have been to your house for dinner, you are not using IE6," she said. "But it is much more complicated when you move into a business setting."

"It's hard to be cavalier in this economy and say 'oh it's been around for so long they need to upgrade,'" Ms. Barzdukas told journalists in San Francisco.
RockMelt: Tech blogs are abuzz this morning with news of a new browser called RockMelt, which has the support of Netscape founder Marc Andreessen. That gives it a hefty bit of street cred in the tech community. Andreessen tells the New York Times that browsers are somewhat behind the times:
"There are all kinds of things that you would do differently if you are building a browser from scratch," Mr. Andreessen said.
RockMelt is rumored to work with Facebook, which is something the blog Mashable finds particularly interesting.
eBooks: Sony has announced that its e-readers soon will accept books published in an open format called ePub. GigaOm heralds the move as good for consumers. It stands in contrast to Amazon's apparent desire to keep its e-books on its Kindle reader,although there are worries Sony's format won't be completely open. More from GigaOm:
Amazon's e-book ambitions go beyond simply selling a lot of Kindle devices. Taking a page from Apple's iTunes playbook, its goal is to establish Kindle as the dominant e-book publishing and distribution platform. And as Apple has amply demonstrated, when you control the platform, you control the value chain, which means you reap a disproportionate share of the value that's exchanged.
Twitter: Time to give that left index finger a rest. If you're sick of typing "RT" in front of all those tweets you republish on your feed, then you'll like this news from Twitter's blog: The micro-blogging site is adding a "re-tweet" feature. Expect it to launch in a few weeks.
Posted by: John D. Sutter -- CNN.com writer/producer
Filed under: books • browsers • Microsoft Corp. • Twitter