Hard, flat, tough, solid. These are all words that you could use to describe concrete. But green? That's not usually an adjective many people would apply to cement – unless, of course, they knocked over a can of emerald paint on their driveway… But here's a rundown of some new environmentally friendly products that are paving the way to greener, well, pavement.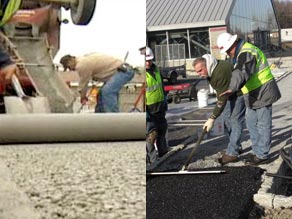 Workers lay Filtercrete (left) and Flexi-Pave (right) instead of regular concrete. Source: CNN/KBI

Filtercrete: Recently used to green Chicago's alleys (watch story here), Filtercrete is one of a few products that help improve normal pavement by making it porous. It is filled with tiny holes that allow water and air to flow between the surface and the soil. This reduces the runoff to local waterways, while increasing water input to local underground aquifers. Because water is less likely to be trapped in the porous concrete, there is a reduction in cracks caused by water freezing to ice. Filtercrete's holes also harbor bacteria that break down contaminants like oil and grease, so water is cleaned as it passes into the ground.
Flexi-Pave: KB Industries' flagship product Flexi-Pave adds one more green aspect to porous pavement. Used for 'low-speed' surfaces like sidewalks, trails, and parking lots, Flexi-Pave is made primarily of recycled tires. Considering they are used at a rate of one per person per year, there are a lot of worn-out rubber tires out there that could be diverted from landfills and recycled into pavement.
Because it's made of rubber, Filterpave can expand with any freezing water that happens to be caught in the product's pores, further reducing the chance of cracking. Also, the product can be outfitted with subsurface heated water pipes to help melt snow lying on the pavement's surface. "[It] causes any snow to immediately turn to water and pass through the product," says Chief Operating Officer Trey Wylie, "[Clients] have eliminated snow removal costs and no longer have to apply chemicals throughout the winter."
Air-Purifying Concrete: It's still in the research stage, but scientists at the University of Twente in the Netherlands are developing a form of concrete that could help clear nitrogen oxides from the air. Nitrogen oxides are those chemicals that cause problems like smog and acid rain, but this new concrete will contain a chemical – titanium dioxide – that converts nitrogen oxides into harmless nitrate salts.
The salts are rinsed off the surface and into drainage systems when it rains, and the concrete should continue to perform over time. "[Titanium dioxide] is a catalyst, so it is enabling the reaction, but not participating, not consumed, so it never wears out," says researcher Jos Brouwers. He adds that the air-purifying concrete could potentially be combined with porous concrete products like those mentioned above or even used in decorative facades of buildings. Results on how effectively the concrete performs in field tests are expected in 2009.
So what do you think of these products? Where can green pavement go from here?
Julia Griffin, CNN Science & Technology
Filed under: Cars • environment • Materials • recycling • Tires