May 17, 2010
Posted: 01:03 PM ET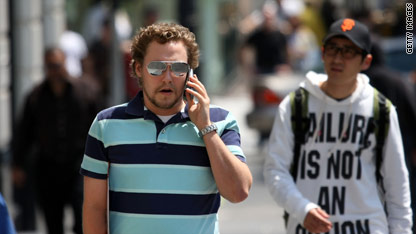 There's lots of news today about a long-awaited study on cell phones and brain tumors.
The study, to be published Tuesday in the International Journal of Epidemiology, turns out to be inconclusive: It found no evidence that making calls with a mobile phone against your ear increases your risk for brain cancer, but it also couldn't prove that no such link exists, according to CNN's report.
"The possible effects of long-term heavy use of mobile phones require further investigation," the study says. Some people, including GQ writer Christopher Ketcham, who recently published an in-depth look at research in this area, are skeptical that such a probe will take place, in part because of the cell phone industry's lobbying influence. Several European countries have issued precautions about mobile phone radiation.
But we'll put the debate aside for now. If you are concerned about mobile phone radiation, here are a few ways to keep these potentially damaging waves away from your brain.
Not all are 100 percent effective, and several carry a significant geek factor. (If a Bluetooth earpiece can make Hollywood hunk Brad Pitt look creepy, what will it do to you?) But who knows. If hipsters latch on, maybe these add-ons will go the way of bike helmets and become socially acceptable.
Let us know what you think of these tips, and please offer up your own in the comments below.
1. Use the speaker phone: This keeps the phone away from your ear and, if your phone has a decent speaker function already, doesn't cost you anything. Downside: Everyone in the office hears your partner yell at you for forgetting to record last night's episode of "Dancing with the Stars."
2. Don't talk. Text: This will win you younger friends and social cachet, as long as your fingers aren't too fat to navigate a QWERTY. If you're new to texting (like omg!), wikiHow has a smart guide to get your started. You probably can't send all of your communiques in 140-character bites, though. Well, unless you're this girl.
3. Buy a lower-radiation phone: CNET and the Environmental Working Group have published guides to radiation by phone model. You can use this information to guide your next cell phone purchase. The downside: This doesn't eliminate exposure. But, as they say, knowledge is power.
4. Use a headset: Some earbuds are wired to the phone; other options, like Bluetooth ear pieces, are wireless. Both put less radiation on the side of your head than a phone, according to EWG. Downside: Since there's no phone in sight, it will look like you're talking to yourself while you're walking down the street. Unexpected bonus: People in music videos do that all the time. And rock stars aren't bothered by onlookers, are they?
5. Talk less: Take this as literally as you will. You could simply limit your phone conversations, choosing to - gasp! - meet up with people in real life instead. Or, according to EWG, simply speaking less during a mobile-phone conversation can reduce your radiation exposure, too. From that group's guide: "Your phone emits radiation when you talk or text, but not when you're receiving messages. Listening more and talking less reduces your exposures." So, moral of story: less Jay, and more Silent Bob.
Posted by: John D. Sutter -- CNN.com writer/producer
Filed under: cell phones • health
February 11, 2010
Posted: 03:38 PM ET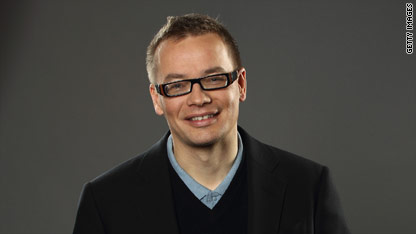 testing captions
Sometimes simple and cheap technologies are best.
That was my take-away from a chat with Tero Ojanpera, a senior vice-president at Nokia. I caught up with him on Wednesday evening at the TED Conference here in Long Beach, California.
Ojanpera does a lot of work these days with mobile phones in the developing world. In places like rural India or sub-Saharan Africa, phones that cost $20 are better than those that cost $200. That's partly because they're more affordable, but it's also because mobile phone developers in those places there don't create complicated, high-power smartphone apps. They make applications with what they've got: text messages.
Those text messages are able to do some pretty amazing things.
With cheap mobile phone, farmers in Africa can get crop prices, so they don't get ripped off when middlmen buyers come to their villages and offer low rates for their goods. Kids in India can learn English through text-message-based applications. People and rural places can communicate with doctors in bigger cities. They can access info about diseases through text message apps, too.
Mobile phones are connecting some villages to the outside world for the first time, Ojanpera said. Landline phones and the Internet require more infrastructure and haven't made it everywhere.
In bigger cities, mobile phones are being employed for new kinds of storytelling. Ojanpera said Nokia is collaborating on a new show with Tim Kring, the creator of the TV series "Heroes." The new show won't be on TV - it will be played out in the real world. People will use their phones to take pictures of posters or other branded objects. Then video clips will play for them. Sounds funky, and I'm a bit hazy on the details. He wouldn't say what the name of the program would be or when exactly it would debut. But it sounds like it could be part of a techie shift for the TV industry.
"It's completely new," he said. "It's going to blow your mind."
Posted by: John D. Sutter -- CNN.com writer/producer
Filed under: cell phones • TED2010
January 12, 2010
Posted: 11:31 AM ET
The Santa Fe New Mexican reports a man claiming to suffer from electromagnetic sensitivity is suing his neighbor for refusing to disconnect her electronic devices.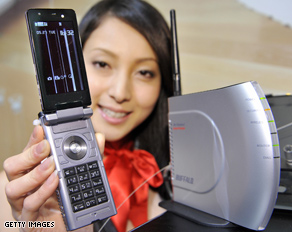 Santa Fe, New Mexico resident Arthur Firstenberg claims that his neighbor Raphaela Monribot's use of electronic devices such as cell phones, computers, compact fluorescent lights and dimmer rheostats is aggravating his "electromagnetic sensitivity" and causing him to get sick.
"Within a day of [Monribot] moving in, I began to feel sick when I was in my house," Firstenberg writes in his affidavit. "The electric meter for my house is mounted on [Monribot's] house. Electromagnetic fields emitted in [Monribot's] house are transmitted by wire directly into my house."
A request for preliminary injunction claims Fristenberg's condition has left him homeless. Fristenberg "cannot stay in a hotel, because hotels and motels all employ wi-fi connections, which trigger a severe illness. If [Firstenberg] cannot obtain preliminary relief, he will be forced to continue to sleep in his car, enduring winter cold and discomfort, until this case can be heard."
The Santa Fe New Mexican notes "Firstenberg's motion is accompanied by dozens of notes from doctors, some dating back more than a decade, about his sensitivities."
However, scientific studies such as this 2005 trial at the Psychiatric University Hospital in Germany suggest electromagnetic sensitivity is strictly a psychosomatic disorder.
The major study endpoint was the ability of the subjects to differentiate between real magnetic stimulation and a sham condition. There were no significant differences between groups in the thresholds, neither of detecting the real magnetic stimulus nor in motor response.

We found no objective correlate of the self perception of being "electrosensitive." Overall, our experiment does not support the hypothesis that subjectively electrosensitive patients suffer from a physiological hypersensitivity to EMFs or stimuli.
Do you acknowledge Fristenberg, and others claiming electronic sensitivity, may be suffering real physiological effects and should be allowed to live free from electronic devices? Or should treatment be strictly psychological?
Posted by: Wes Finley-Price -- CNN.com Webmaster
Filed under: cell phones • computers • Medicine • mobile phones • online news • science
January 8, 2010
Posted: 03:04 PM ET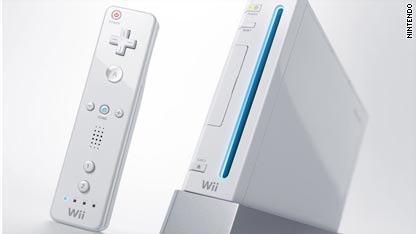 Nintendo Wii
Nintendo scored the worst in a new Greenpeace report on efforts by electronics companies to be ecologically responsible.
In the "Guide to Greener Electronics", Nintendo's score of 1.4 out of 10 rated it 18th out of 18 companies that produce cell phones, gaming consoles and computer equipment. Each company was rated in three categories - chemicals and chemical management, e-waste, and energy.
Nintendo scored zero on all e-waste criteria and received their most points in the chemical category. They have PVC-free internal wiring in their Wii consoles and banned the use of some chemicals. They are also attempting to eliminate the use of all PVCs, but have not set a timeline for its phaseout.
Cell phone manufacturer Nokia led all companies with a score of 7.3, down slightly from last year's ranking. Greenpeace praised the company for its comprehensive voluntary take-back program, which attempts to educate cell phone users about the benefits of recycling old phones.
Sony Ericsson, Toshiba and Phillips rounded out the top 4 companies in the report. Dell, Fujitsu, Lenovo and Microsoft joined Nintendo in the bottom 5.
Posted by: Larry Frum for CNN.com
Filed under: cell phones • Energy • environment
December 10, 2009
Posted: 02:37 PM ET
Unlimited iPhone data plans and popular high-bandwidth video offerings are causing headaches for AT&T. In some saturated markets, such as New York City and San Francisco, the company's wireless network is unable to keep up with demand and transfers slow to a crawl.
[cnn-photo-caption image=http://i2.cdn.turner.com/cnn/2009/images/12/10/de.la.vega.jpg caption="AT&T President and CEO of Mobility and Consumer Markets Ralph de la Vega"]According to the Wall Street Journal, AT&T's head of consumer services Ralph de la Vega blames high-bandwidth users for these network shortages, and, in a recent meeting with investors, hinted at the end of unlimited data packages.
"This is going to get fixed," Mr. de la Vega said. "In both of those markets, I am very confident that you're going to see significant progress."

With about 3 percent of smartphone customers driving 40 percent of data traffic, AT&T is considering incentives to keep those subscribers from hampering the experience for everyone else, he said.
De la Vega did not elaborate on what "incentives" AT&T plans to enact, but you can bet the agenda will have more in common with data caps and speed limits than free toasters.
Bandwidth-hungry iPhones may be the cause of AT&T's network problems, but they are hardly to blame. iPhone users are forced into unlimited data packages costing at least $30 a month. I don't think AT&T has any right to complain when a few of those users fully utilize their purchase.
Who do you feel is responsible for the struggling wireless networks? AT&T, high-bandwidth users, or both?
Posted by: Wes Finley-Price -- CNN.com Webmaster
Filed under: Apple • cell phones • consumer tech • iPhone • Uncategorized
November 3, 2009
Posted: 05:00 PM ET
Adobe is not happy about the iPhone's lack of Flash support and the company is accusing Apple of unfairly restricting the technology.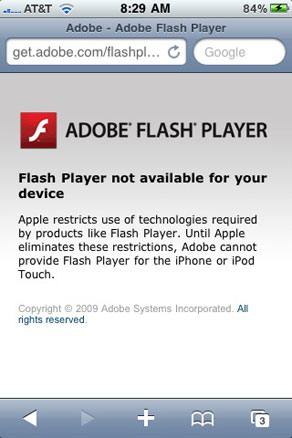 iPhone users who visit the Flash installation site are greeted with a not-so-subtle message claiming:
Flash Player not available for your device.

Apple restricts use of technologies required by products like Flash Player. Until Apple eliminates these restrictions, Adobe cannot provide Flash Player for the iPhone or iPod Touch.
Adobe Flash is a multimedia platform commonly used to add interactivity to Web sites. While it has been criticized for being resource intensive, Flash is still the most popular approach to to integrate animations and video into Web pages.
Since the iPhone's debut, the device's Safari browser has been unable to play Flash, and users routinely lament the loss of nearly all online video content.
Apple declined to comment, but some iPhone developers speculate Apple opted against a full Flash experience because of technical problems it could raise on the handset, such as battery drainage or sluggish web browsing.
Last summer's release of the speedier iPhone 3GS did not ease Flash restrictions. Apple may have chosen to block Flash not for performance reasons, but because interactive Flash applications and games could compete with the iTunes App store.
Do you agree with Adobe that Apple is unfairly restricting technology by limiting Flash on the iPhone? Or is the message on Adobe's Web site simply propaganda aimed to shift the blame from Flash's performance to Apple's anticompetitive nature?
Posted by: Wes Finley-Price -- CNN.com Webmaster
Filed under: Apple • cell phones • consumer tech • Gaming • iPhone • iPod • mobile phones
October 26, 2009
Posted: 01:03 PM ET
I have a box in my home office that is full of cords and changers - those for phones, laptops, cameras and all kinds of other gadgets.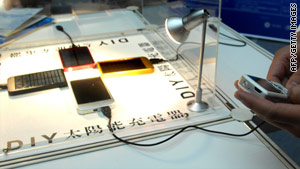 It's a total mess. But some news out of a UN tech group may help me clean up my act.
The International Telecommunication Union, a branch of the United Nations, recently passed a universal standard for cell phone chargers - those cords that connect your phone to an electrical socket. In addition to reducing consumer headaches, the ITU expects the approved connectors - which will be in the micro-USB format - to reduce e-waste and cut greenhouse gas emissions by 13.6 million tons per year, according to an ITU news release.
Here's the statement from Malcolm Johnson, director of the ITU's telecommunication standardization bureau:
This is a significant step in reducing the environmental impact of mobile charging, which also has the benefit of making mobile phone use more straightforward. Universal chargers are a common-sense solution that I look forward to seeing in other areas.
As CNET and the BBC point out, it's unclear how many mobile phone makers will adopt the standards since the recommendations are not mandatory.
And, as a colleague of mine noted, this all may be moot in the not-to-distant future if wireless charging devices become more of a reality. Those lose some efficiency, though, so it will be interesting to see which line of thinking prevails in the charger world: efficiency or convenience.
The ITU says its standards require chargers to be about three times more energy-efficient than unrated chargers.
What do you think? Let us know in the comments below.
Posted by: John D. Sutter -- CNN.com writer/producer
Filed under: cell phones • climate change • greenhouse gas • ITU