July 1, 2009
Posted: 10:17 AM ET
Tiny contributions from many people can amount to something cool in the aggregate.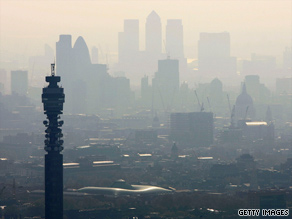 That's the idea behind many Internet success stories - Flickr, Wikipedia, etc. - and also seems to be the philosophy driving a new UK science project to monitor air pollution.
Scientists have given out small pollution sensors to 100 commuters, cyclists and pedestrians, the BBC reports. Those sensors will help scientists get a real-time picture of air quality.
Here's what Neil Hoose, coordinator of the project, told the BBC:
Each sensor has a satellite positioning system, so we could have a bus create a map of the air pollution as it drives along its route. This data could be used to provide people with local information – perhaps advice for those with respiratory problems about their journey to work.

In a wider sense, it could also be used by traffic managers, helping them decide how to phase traffic lights in a way that might reduce traffic pollution.
It's a new twist on the idea of "citizen science," which I wrote about for CNN.com. As funding for scientific research gets tight, scientists are turning to everyday people for help in collecting basic data. The Internet has given the idea momentum, as it makes it easy for people with common hobbies and research interests to link up.
Also see this previous SciTech blog post with a list of citizen science projects - some of them submitted by readers.
Posted by: John D. Sutter -- CNN.com writer/producer
Filed under: citizen science
May 4, 2009
Posted: 03:16 PM ET
Nature lovers are known for stopping to take way too many pictures. I once got got completely lost in a rain forest, for example, when my group crossed a river while I was snapping pics of flowers.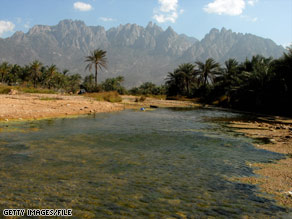 But, if technology has anything to do with it, such trigger-happy photography could result in a boon of scientific information that will help researchers study climate change and biodiversity loss.
Scientists and computer gurus at the Smithsonian, the University and Maryland and Columbia University are developing an iPhone app that would automatically identify plant species from photos of leaves. The app then would shoot that data up to the Internet, where scientists could access it and use it for research.
If it works and catches on, researchers soon could have a robust, global database of plant information. Perhaps that sounds likes a yawner, but think about how much that would help us understand what's happening to the natural world, which is undergoing substantial change. (E.O. Wilson has said we're headed into the "age of loneliness" because so many species are going to die off.)
The app also would encourage everyone to learn more about the natural world, the researchers say.
"The first thing you need to know about any spec is what is its name," said John Kress, a botanist with the Smithsonian. "Once you know its name, it opens up a whole world of information about that organism."
Kress and others plan to start the app with plants from Central Park, and then the northeast U.S. Eventually, as cell phone technology continues to spread, he hopes the technology will spread to the tropics, where the biology is diverse, but where relatively little is known about plant life.
Check out CNN.com/tech today for more on citizen science efforts around the world.
Posted by: John D. Sutter -- CNN.com writer/producer
Filed under: citizen science • environment • iPhone • Scientists • technology
Posted: 09:09 AM ET
In today's Tech section I write about how "citizen scientists" around the world are collecting data that helps professional scientists do their research.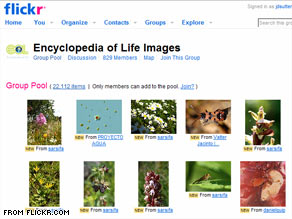 The movement is gaining steam as climate change and biodiversity loss ramp up. Especially with so much changing, scientists can't be everywhere.
Here are a few of the citizen science efforts I found interesting while I was reporting the story. It's by no means an exhaustive list, so feel free to tell us in the comments about other cool sites.
Squirrel sightings: http://www.projectsquirrel.org/
Bird photos: http://www.audubon.org/Bird/cbc/
http://ibc.lynxeds.com/users/josep-del-hoyo
http://www.birds.cornell.edu/citscitoolkit [includes a big list of citizen science sites ... thanks to Rick Bonney and a commenter for the link]
Ant anthologies: http://www.antweb.org/bayarea.jsp
All species: http://eol.org/
Water quality info: http://www.worldwatermonitoringday.org/
Beetle hunts: http://www.hort.cornell.edu/vlb/
Firefly tracking: http://sciencecheerleader.com/2009/04/firefly_day_this_saturday/
Toad enthusiasts: http://toadnuts.ning.com/ and http://bgis.sanbi.org/uploadyourtoad/
Posted by: John D. Sutter -- CNN.com writer/producer
Filed under: Animals • Birds • citizen science