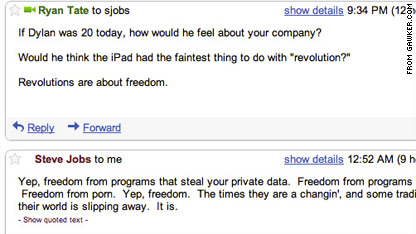 Apple CEO Steve Jobs engaged in a catty e-mail exchange over the weekend with a blogger from the website Gawker, who chided the tech luminary for calling its slate computer a "revolution" in television ads.
Ryan Tate, the blogger, who writes that he was drinking during the digital duel, carries on a conversation that sounds, at turns, like it could have been ripped from the pages of a "Saturday Night Live" script.
Tate's first note, which, according to the posted e-mails, was sent at 9:34 p.m. on Friday, asks Jobs what he thinks a young Bob Dylan would think about Jobs' claim to a computer "revolution."
"Revolutions are about freedom," the blogger asserts (I dare you to read that line without doing a Will-Ferrell-as-George-W.-Bush voice in your head; and keep in mind, we're talking about computers and app formats here, not the War on Terror).
"Yep, freedom from programs that steal your private data. Freedom from programs that trash your battery. Freedom from porn. Yep, freedom," Jobs replied at 12:52 a.m. on Saturday, according to the e-mails as posted by Gawker. "The times they are a changin', and some traditional PC folks feel like their world is slipping away. It is."
Jobs sent three more notes to Tate after that one. The duo argued about Apple's aim to control app development and the recent police raid of a Gizmodo blogger's home following that blog's decision to publish details about a prototype iPhone from Apple. Gizmodo, as Tate notes, is owned by Gawker Media, which also publishes the site Gawker.com.
As TechCrunch notes, Apple's CEO is known for occasionally sending brief e-mails to consumers and reporters.
The BBC's Maggie Shiels makes a funny point about the "nocturnal back-and-forth":
"We're all aware of the perils of 'drunk dialing' an ex – but for Ryan Tate at media gossip blog Gawker, e-mailing Apple boss Steve Jobs – with a stinger cocktail on hand late one night while the wife was away – really paid off," she writes.
Despite his apparent resentment over Apple's efforts to control app development for its products, Tate did leave the exchange with a few positive things to say about Apple and its iconic leader.
"Rare is the CEO who will spar one-on-one with customers and bloggers like this," he writes. "Jobs deserves big credit for breaking the mold of the typical American executive, and not just because his company makes such hugely superior products: Jobs not only built and then rebuilt his company around some very strong opinions about digital life, but he's willing to defend them in public. Vigorously. Bluntly. At two in the morning on a weekend."
Check out the full exchange (foul language warning), and let us know who you think came out on top.
Posted by: John D. Sutter -- CNN.com writer/producer
Filed under: Apple • Steve Jobs