You've probably read by now that Disney on Thursday struck a deal with Hulu, the online video site. That means you can watch a bunch of ABC shows - everything from "Lost" to "Desperate Housewives" - for free at Hulu.com.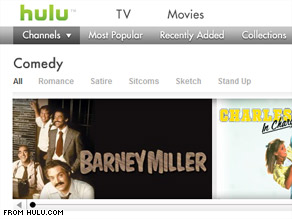 NBC and Fox already put content on Hulu.
Here's some background about what this means for online video sites, and for the future of TV. Let me know what you think of the deal in the comments. Do you use Hulu?
CNET says the deal is bad news for Google-owned YouTube (read more about YouTube's partnerships here):
What this all means is there just aren't that many other places for YouTube to acquire high-end content.

"(The Disney-Hulu deal) is not good news for YouTube," said James McQuivey, an analyst at Forrester Research. "Any hope of creating a professional-content business has probably disappeared."

A YouTube spokesman issued this positive-spin statement: "More content coming online in more places is a win for consumers and provides further validation of the growth of the online video market."
The LA Times says what's in the deal for Disney:
Disney views the move as a way to reach a new audience that isn't coming to the network's own website. Although the ABC.com website has attracted regular viewers of its shows, Hulu offers the opportunity to tap into a new group of viewers.
The paper has more on competition in the broadcast world for online viewers:
The new setup also brings the owners of three of the four major broadcast networks - ABC, NBC and Fox - into a fight for online eyeballs against the video streaming site TV.com, which CBS Corp. acquired last year when it bought CNET Networks Inc. for $1.8 billion. In February, Hulu pulled all its content from TV.com.
Wired writes that the deal is pretty sweet for Disney:
The move, though not unexpected, marks a victory for Disney and its ABC television programming: Not only does the deal erase NBC's and Fox's early-mover advantage over ABC, but Disney's Hulu deal appears a bit sweeter than those of the other networks because it requires them to make only certain episodes from a series available on Hulu at any given time. The first taste may be at Hulu, but the full meal will still be on Disney-controlled real estate.
And the New York Times gives some context to Hulu's growth against other online video sites:
Hulu, which in the last 18 months has become the third most popular video site on the Web, behind YouTube and Fox Interactive Media, displays free, high-quality versions of television shows and movies, supported by advertising.
For more on Hulu, see the site's "about" page.
Posted by: John D. Sutter -- CNN.com writer/producer
Filed under: Disney • Hulu • online video