Here are a few stories CNN.com is watching today: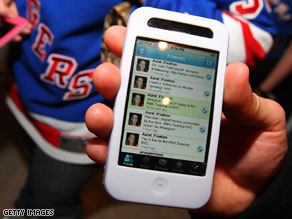 ECO-DATA: Wired magazine writer Alexis Madrigal has a must-read piece on how data is the key to making environmentally conscious decisions. My inbox has been flooded lately with companies that claimed they were "going green" for Earth Day. Madrigal writes about how a few data crunchers are actually trying to figure out what works and doesn't (turns out: solar backpacks, not so helpful).

SPAM: An NYT blog raises conflict-of-interest questions about a study that says spam wastes a bunch energy. One strangely phrased statistic stuck out for me: one spam message produces the same amount of greenhouse gases as driving 3 feet.
IPHONE: You may have thought that nothing could spoil the day for Apple, since the billionth iPhone app likely will be downloaded today. But you're wrong. One iPhone application is diverting attention from that milestone because it let users shake a crying, digital baby until it dies. Apple reportedly decided to pull the Baby Shaker app after parenting groups expressed outrage.
The incident raises questions about Apple's quality control measures for iPhone apps, many of which are developed independently. Here's what some news orgs are saying on that:

From the Telegraph in the UK:
Apple has recently relaxed its rules on applications in the App Store. Bans on applications which made noises simulating breaking wind and allowed users to jiggle womens breasts have been lifted.
From MSNBC:
The company has been criticized by software developers for not allowing other kinds of programs, such as those that pass digital gas, into the App Store.
Such apps ultimately were approved, although the developer of one, "Whoopie Cushion," was first told by Apple that his program did not "comply with Community Standards," programs that have "any obscene, pornographic, offensive or defamatory content or materials of any kind (text, graphics, images, photographs, etc.) or other content or materials that in Apple's reasonable judgment may be found objectionable by iPhone or iPod touch users."
And from Huffington:
Apple spokeswoman Natalie Kerris said "Baby Shaker" went on sale Monday, and confirmed that Apple removed it Wednesday. She would not comment on why the program was initially approved for sale nor about how many people downloaded the game. Apple itself screens each iPhone application, a process some prospective iPhone application developers have complained can take weeks or months. Others have said Apple gives little feedback when it accepts or rejects a program.

The Cupertino, Calif.-based company has rejected apps that let iPhone users throw virtual shoes at President George W. Bush or watch clips from the "South Park" cartoon. It has accepted numerous programs that simulate flatulence.
Posted by: John D. Sutter -- CNN.com writer/producer
Filed under: Earth Day • environment • Internet • iPhone
Earth Day is tomorrow, and several news sites have ideas about how you can use technology to save energy and help the environment. Here's a sample: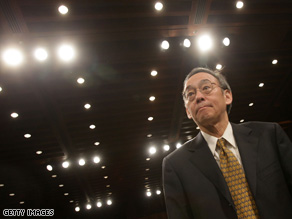 SAVE ENERGY: CNET has a good overview of how technology can gobble up energy, and another story on power-saving green technologies to watch. When it come to computer energy savings, screen savers don't cut it, one story says:
Screen saver software does not save energy. It's much better to turn off your monitor when you take a break. CO2 Saver, a free program for Windows XP and Vista, can help you manage your PC's sleep behavior.
DIY: On the DIY (do it yourself) side of things, NPR has a first-person story about a man who made a solar backpack that charges his iPod while he walks around Manhattan.
SMART GRID: Here's a Chicago Tribune blog about GE's "plug" on Monday of Miami's new smart grid, which an exec says is the largest project of its kind. Smart grids use automated meters to save energy. The technology is a government priority in the U.S. and in Europe these days.
ONLINE NEWS: The New York Times quotes experts who say ditching newspapers for online information may be the sustainable thing to do. The paper notes that Marriott hotels no longer will leave papers on their guests' doorsteps.
FINANCIAL CRUNCH: PC World reports on a survey that says investors are turning away from green technology because of the economic recession. But some still would like to see green tech be a priority, the site says.
AT SCHOOL: If you're a student or a parent, earthday.net has some ideas about greening your school. Among them: talk to administrators about switching to lower-energy LED "Exit" signs. One old-school "Exit" sign costs about $24 per year to operate, according to the EPA.
BICYCLE: Finally, it's worth noting that low-tech solutions can be green, too. The New York Times magazine recently interviewed the nation's energy secretary, Steven Chu (pictured above), who indicates he feels guilty that security officials won't let him ride his bike to work anymore. An excerpt:
Is it true you don't drive a car?
My wife does, but I no longer own a car. Let me just say that in most of my jobs, I mostly rode my bicycle.

And now?
My security detail didn't want me to be riding my bicycle or even taking the Metro. I have a security detail that drives me.

How do you feel about adding carbon emissions to the air?
I don't feel good about it.
What technology helps you be green? Tell us about it in the comments. You also can share your views on local environmental issues on iReport.com.
Posted by: John D. Sutter -- CNN.com writer/producer
Filed under: computers • Earth Day • Energy • environment • Scientists • solar energy • technology