October 10, 2008
Posted: 02:05 PM ET
As previewed in a blog post from several days ago, the Cassini spacecraft executed another in a series of close flybys of Saturn's geyser moon Enceladus on Thursday.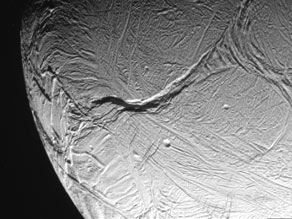 Raw image of Saturn's moon Enceladus taken October 10 by the Cassini spacecraft. Source: NASA/JPL/Space Science Institute
The first images are now available, with more to follow in the coming days.
Cassini Imaging Team Leader Carolyn Porco reports that all went according to plan:  "Yesterday, Cassini executed another daring dive over the south polar region of Enceladus and through its plume of vapor and frost.  And once again, it went spectacularly well.   The imaging team acquired fabulous images, and the instruments designed to collect and measure the constituents of the plume for analysis did what they should."
I'll keep an eye out and post again when the science analysis comes out.  As noted earlier, there is another Enceladus flyby scheduled for October 31.
–Kate Tobin, Sr. Producer, CNN Science & Tech
Filed under: Astrobiology • Cassini • Enceladus • NASA • Space
October 7, 2008
Posted: 10:44 AM ET
Here are the first images from the MESSENGER spacecraft's Monday flyby of Mercury.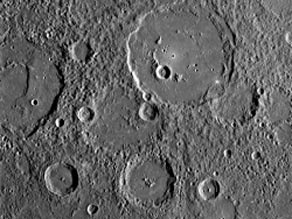 Image of craters on Mercury taken Oct. 6. Credit: NASA/Johns Hopkins University Applied Physics Laboratory/Carnegie Institution of Washington
MESSENGER will fly by the planet once more in September 2009. The spacecraft is scheduled to enter orbit around Mercury on March 18, 2011.
In the meantime, the Cassini spacecraft is getting ready to execute two more flybys of Saturn's moon Enceladus (pronounced in-SELL-uh-dus) this month. Enceladus, you may recall, is the moon that is spewing cold geysers of water into space, which suggests to scientists there is liquid water (possibly even an ocean) under its surface.
The first flyby, set for Thursday October 9th, is arguably the more exciting of the two. Cassini will pass just 16 miles over the surface of the moon, directly through the geyser plume. The emphasis on this flyby will be to use the on-board science instruments to learn more about its composition. Data from previous flybys indicate that, in addition to water vapor, water ice, and dust, the plume also contains trace amounts of organic chemicals. The presence of organics has certainly perked up the antennae of the astrobiology community. In only a short period of time this little moon has shot to near the top of the list of promising places to look for extra-terrestrial microbial life.
The second Enceladus flyby of the month is set for Oct. 31. Cassini will fly 122 miles over the surface, and use on-board cameras to photograph surface fractures in the south polar region.
–Kate Tobin, Sr. Producer, CNN Science & Technology
Filed under: Astrobiology • Cassini • Enceladus • Mercury • MESSENGER • NASA • Saturn • Space
March 27, 2008
Posted: 08:45 AM ET
That's what Cassini spacecraft scientists had to say about what's in those cold water geysers shooting off from the pole of Saturn's moon Enceladus (that's pronounced "in-SELL-uh-dus").
Jet Blue. Source: NASA/JPL/Space Science Institute
The Cassini team was stunned to discover the geysers two years ago when the probe made its first flyby of the tiny moon. Then on March 12th, they got another chance to point their science instruments at the billowing plume during another close approach, passing just 120 miles from the surface. This time the optical cameras took a back seat to a suite of spectrographs designed to "taste and smell" what chemicals are present.
The team has just announced the initial science findings. It turns out the jets are mostly water vapor, with some ice crystals mixed in. Also present are methane, carbon dioxide, carbon monoxide, and an abundance of both simple and complex organic chemicals.
Another instrument on board measured the temperatures at the fissures where the geysers erupt from the surface. Turns out it gets up to a hot and balmy -130 degrees Fahrenheit there. OK, that's pretty cold. But it is significantly warmer than the -300 degrees Fahrenheit temperatures elsewhere on that moon. The researchers say some sort of heat source deep within the planet must be at work, and that underground pockets of liquid water very likely exist - maybe even relatively close to the surface.
So what does it all mean? The moon has water, organic compounds, and a heat source...and that makes it a prime hunting ground for astrobiologists (scientists who look for signs of extraterrestrial life). They don't know at this point if that underground liquid water exists, and they certainly don't know if any sort of microbial life form may be living there. But you can bet they're excited about it!
Cassini will flyby Enceladus again in August.
–Kate Tobin, Senior Producer, CNN Science & Technology
Filed under: Astrobiology • Enceladus • NASA • Saturn • Space