In a weird sort of environmental paradox, the Natural Resources Defense Council on Wednesday released maps of the American West showing areas that would be damaged if they're developed for renewable energy.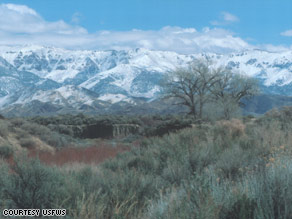 Renewable energy expansion is a priority of the Obama administration, but some of the land that could be used for wind or solar power also is home to endangered and threatened species.
It's an interesting example of environmental issues butting heads. Environmentalists generally support renewable energy projects because they reduce the amount of heat-trapping gases going into the atmosphere - and therefore help to slow global climate change. But this could be a sign they may oppose some wind and solar projects.
NRDC says the issues don't have to be in opposition. Careful planning could solve the conflict, the group says.
You can check out the maps on Google Earth.
Here's one example: a birding group mapped areas of Wyoming where the sage-grouse lives.
In my previous life as an environment reporter in Oklahoma, I wrote about how wind farms in that state are crossing paths with a funky bird called the lesser prairie chicken. The bird is so popular it even has YouTube videos.
What do you think? Can we ditch fossil fuels and protect wildlife? What should be the priorities?
Posted by: John D. Sutter -- CNN.com writer/producer
Filed under: Animals • Birds • climate change • endangered species • Energy • environment • Politics • solar energy