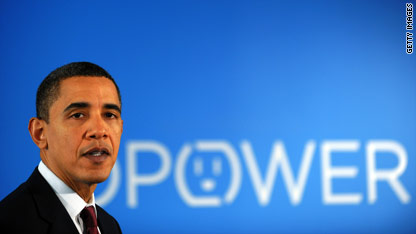 A coalition of tech companies, telecoms and environmental groups on Monday sent a letter to President Obama (PDF) on the subject of home energy efficiency.
The groups, which include Google, AT&T and 45 others, essentially make two points:
In order for people to save energy, they need to know more about how much energy they're currently using.
The U.S. government should, in some way, require that "timely, useful and actionable" data about energy use and pricing be made available to consumers over the Internet or mobile phone.
As for the info consumers should have access to, the groups say that to make smart decisions about how much energy to use and when to use it, people need to know the following:
How much energy their individual appliances use, in near-real-time
How much electricity costs at any given time
How the electricity is being generated (ie, by turning wind turbines or burning coal)
With all of this information, people could save an average of $360 per person per year on energy bills, the group says.
Google and The Climate Group will co-host a talk on this subject on Tuesday at 1 p.m. in Washington. A Google blog post says the White House energy adviser, Carol Browner, will give a keynote address.
For people to be able to get data about how much energy they're using at any given time, what appliances are sucking it in, and how much the electricity costs at the moment, the U.S. will have to deploy a "smart" electricity grid, capable of tracking and transmitting all of this information.
The White House has promised a $4 billion investment in the smart grid, but it has faced delays.
And a number of roadblocks remain.
Some say smart grid technology is too expensive, as the Wall Street Journal reports. The blog earth2tech says some electricity companies may not make energy data available fast enough to really be that useful for consumers.
What do you think? Would knowing more about your electricity consumption - in real-time - help you slash your power bill?
Posted by: John D. Sutter -- CNN.com writer/producer
Filed under: Energy • environment • Google • greenhouse gas