April 24, 2009
Posted: 10:00 AM ET
The biofuel industry has lost its battle against California regulators over rules aimed at reducing greenhouse gas emissions from various fuels, including corn-based ethanol.
The California Air Resources Board (CARB) late Thursday approved the controversial Low Carbon Fuel Standard, which would force fuel producers to lower their "carbon intensity" of their products by 10 percent by 2020.
"They have made a huge mistake in demonizing first generation biofuels," said Brooke Coleman of the New Fuels Alliance, a biofuel lobbying group. Coleman called the new rules a "biased regulation that drives investment away from all biofuels."
Carbon intensity is what fueled the controversy. It's a rating system meant to classify each fuel by how much greenhouse gases they produce for every unit of energy that they create.
CARB Chairman Mary Nichols touted the board's decision, predicting that the new rules will reduce air pollution, create new jobs and "continue California's leadership in the fight against global warming."
Makers of ethanol said the rating system unfairly ties their U.S.-made corn-based fuel to mass deforestation – not in the United States – but in developing nations. Ethanol critics say the entire biofuel industry should bear global responsibility for clearing of trees to make farmland to grow crops that will be used to make the fuel.
The rules have taken on a pretty high profile since they were proposed. Several U.S. states are considering similar measures and even the European Union watching with interest.
In the months that the debate has been raging, people have been voicing a lot of strong opinions about this issue. So, what do you think about the ruling? Fire away!
In other news, CNN's iReport wants to know what you think of iPhone apps. How do you use them? What's your favorite? Tell us about your iPhone app experience!
Filed under: climate change • Energy • environment • Ethanol • Fuel • Uncategorized
March 20, 2009
Posted: 12:52 PM ET
[cnn-photo-caption image=http://i2.cdn.turner.com/cnn/2009/images/03/20/corn.gi.jpg caption="Some ethanol producers are unhappy with California's proposed low carbon fuel standards."]
California wants to take a big-picture look at decreasing carbon emissions from transportation, and in doing so, it has managed to step on some toes, mainly some ethanol producers. Since California is often a trend-setter on these type of things, this case could be a good example of what the rest of us might see in our own states down the road.
Biofuels play a big role in this, but it's the way they're doing it that has some people riled up. I'm a biofuel fan myself and have two vehicles (both 25-year-old-plus diesels, one of which was featured on CNN.com's American Road Trips special) that I run on biodiesel, so I find this all quite interesting.
California's proposing a "Low Carbon-Fuel Standard" aimed at decreasing carbon, not only from tailpipe emissions but also from the overall production of fuels and their use. As part of this, it has proposed a rule limiting the use of ethanol in the strategy, mainly because it says ethanol from corn (because of its land use and impact on food crops) can have a higher impact than regular gasoline produced in the state (according to the Los Angeles Times).
Supporters of the proposal claim they aren't trying to ban ethanol or anything; in fact, according to the fact sheet I linked to above, they're advocating going from an ethanol blend fuel called E5 (5 percent ethanol, 95 percent gasoline) to E10 (10 percent ethanol, 90 percent gasoline) and E85 (85 percent ethanol) for flex fuel vehicles.
Mainly they're stressing the change from corn-based ethanol to cellulosic-based ethanol (ethanol made from agricultural waste or switchgrass are cited examples), which the sheet says can have four or five times lower greenhouse gas emissions than corn.
The ethanol people don't really like that. Tom Koehler of Pacific Ethanol told the Los Angeles Times that the proposal was a "perversion of science and a prescription for disaster." And Wesley Clark (yes, that Wesley Clark), the co-chairman of ethanol lobbying group Growth Energy, told SFGate that in addition to bad science, it would be "bad policy to adopt a regulation that creates unfair standards" and would continue California's reliance on fossil fuels.
If you live in California, you have until April 23 to comment on the proposal, when the Air Resources Board will vote. And I'm sure the rest of you will have plenty to say on this controversial topic. Fire away in the comments.
Posted by: Cody McCloy
Filed under: Cars • climate change • environment • Ethanol • Fuel • Gas • Gasoline • Road trip
July 24, 2008
Posted: 09:39 AM ET
Having grown up in a major southern city in Brazil in the late 70s and 80s, I can vividly remember going to any fuel station and the attendant asking my father if he wanted gasoline or "alcool" - ethanol made from sugarcane.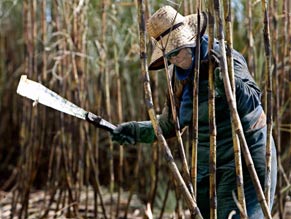 A worker cuts sugarcane at harvest. Source: Getty Images
When I moved to the U.S. in 1989, I realized that American drivers didn't have the same choice as we did in Brazil, but gasoline here was so cheap and abundant that there was no need for an alternative.
Well, you don't need me to tell you that times have changed. While politicians try to spread the blame and try to feed us ideas that will get them elected or re-elected, gas prices continue to go up.
Most Republicans in Congress want to drill in Alaska's ANWR (Arctic National Wildlife Refuge) as a solution. It sounds sexy enough to say let's drill on our own turf and flip the middle one toward the Middle East, but the reality is that it would take years for any of us to see a drop of that oil in our tanks and there isn't enough there to suppress our addiction to it.
Speaker of the House Nancy Pelosi says the immediate solution is to open up our oil reserves, which we've already paid for as taxpayers, and make it available right now instead of drilling in ANWR. That sounds like a great idea, in theory. But if oil is our heroin, Pelosi is basically saying let's make more of it available to all addicts so that their withdrawal is mitigated. How about when the reserve is gone? What are we going to do then?
I'm not suggesting we follow in the footsteps of Brazil and mass produce our own ethanol. We're trying it with corn, which is driving the prices of food and basically everything way, way up. What works in Brazil may not work elsewhere. Besides, Brazil has its share of problems with ethanol - the Amazon rainforest continues to be cut down to grow more sugarcane. This year, 24 ethanol producers were fined in the millions for planting sugarcane illegally and operating without licenses, among other things.
We must look toward other solutions, be it hydrogen, electricity, solar power or even water. Whatever the answer, our children and grandchildren will either suffer or benefit from the decisions we make today.
What do you think is the answer to our oil addiction? Do Republicans and Democrats have a solution or are they sidestepping the real issues? And how are you coping with the high gas prices?
Paulo Nogueira - Producer, CNN Science & Technology
Posted by: CNN Science & Technology, Paulo Nogueira -- Producer
Filed under: Cars • environment • Ethanol • Fuel • Gasoline