August 18, 2009
Posted: 02:54 PM ET
Any baseball fan is familiar with MLB's frequent reminders not to rebroadcast a game without "the express written consent of Major League Baseball." But did you ever consider that your Facebook, Twitter or blog posts could be targeted by overzealous media regulations?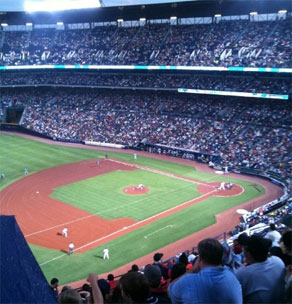 Can the SEC prohibit fans from sharing pictures similar to this iPhone shot of a Braves game I
posted to my Facebook profile?
Should they even bother trying?
According to current policy, Southeastern Conference (SEC) fans cannot "produce or disseminate (or aid in producing or disseminating) any material or information about the event, including, but not limited to, any account, description, picture, video, audio, reproduction or other information."
Adam Ostrow, of Mashable.com, translates that to mean "no Twitter, Facebook, YouTube, TwitPic, or any other service that could in any way compete with authorized media coverage of the event."
The SEC media-credential policy also states that violations may result in "ejection from the Event and prosecution for criminal trespass."
Conference spokesman Charles Bloom told the Charlotte Observer there are plans to loosen the restrictions, but the current policy forbids tweeting from the stands.
While speaking with CNN, Attorney Evan Brown questioned the legality of the SEC policy. Brown equates a ban on social media in state-sponsored schools to a violation of the First Amendment and a form of prior restraint.
Media-coverage rights to sporting events have always been expensive and, consequently, heavily policed (this year the U.S. Open banned all cameras and phones) but can social media possibly be restrained?
Could social media ever compete with authorized media coverage in a way that would threaten profits and rationalize SEC's media policy?
Bloggers Adam Ostrow, Evan Brown and Steve Raquel discussed the SEC policy today on CNN.com Live (Watch Video).

Update:
This afternoon the SEC released a revised version of its media policy (pdf). The revision provides exemptions for noncommercial updates and personal messages.
The new policy reads:
No Bearer may produce or disseminate in any form a "real-time" description or transmission of the Event (i) for commercial or business use, or (ii) in any manner that constitutes, or is intended to provide or is promoted or marketed as, a substitute for radio, television or video coverage of such Event. Personal messages and updates of scores or other brief descriptions of the competition throughout the Event are acceptable.
Posted by: Wes Finley-Price -- CNN.com Webmaster
Filed under: Facebook • Flickr • Internet • iPhone • online news • schools • Twitter
June 15, 2009
Posted: 09:23 AM ET
When you first hear about Hunch, a new site that says it helps people make decisions, it's easy to be skeptical.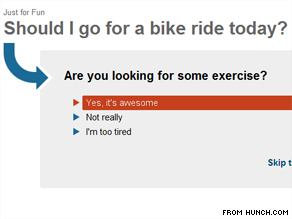 But, before you write the site off entirely, consider the fact that Hunch is really more about information than decisions. Hunch essentially is a site that makes searching the Internet fun.
In a recent interview with CNN.com, Caterina Fake, the site's founder, was careful to say that Hunch is not a search engine, it's "something new." That's true. But it does what Google, Bing and Wolfram Alpha all want to do: it learns something about you and then answers your questions, without sending you to a middle-man Web page that contains a giant list of hyperlinks that may or may not have what you're looking for.
Hunch isn't perfect, but, as Fake points out, it should get better over time, since its computers learn from all the people who use it.
I tested the site ahead of its public launch Monday, and it seemed to know me pretty well. I asked the site which Atlanta neighborhood I should live in, and Hunch's top response was my actual neighborhood. I asked Hunch what blogs I should read and the site spat back a couple of sites I do read and one, called Notcot, that I hadn't seen before, but do find to be neat.
It missed on some other topics, though. For instance, Hunch told me that, if I ever wanted to pick another line of work, I should be an electrical engineer. No chance there.
It's also important that Hunch is pretty fun to use. Using the site feels like taking a bunch of online quizzes, which already are popular on online social networks.
Check the site out and let me know what you think. Also listen to this short clip from my interview with Fake, who also is a co-founder of Flickr. It's my favorite part of our conversation. In it, she explains why she thinks the Internet is so powerful.
Posted by: John D. Sutter -- CNN.com writer/producer
Filed under: Caterina Fake • Flickr • Google • Hunch • search engines
May 21, 2009
Posted: 09:20 AM ET
The buzz online this morning is about a Cambridge University project that found photos posted to some social networks, blog and photo-sharing sites stick around after they're deleted by users.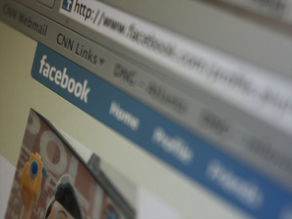 Researchers tested several photo-sharing sites to see if photos still existed on the Internet 30 days after they were supposedly deleted by users. Seven of the 16 sites, including Facebook, failed the test. From a researcher's blog post:
Facebook alone hosts over 40 billion photos, over 200 per user, and receives over 25 million new photos each day. Hosting such a huge number of photos is an interesting engineering challenge. The dominant paradigm which has emerged is to host the main website from one server which handles user log-in and navigation, and host the images on separate special-purpose photo servers, usually on an external content-delivery network.
Sound confusing? Basically that means Facebook and other sites store photos in one place and their main Web page in another place. That makes it difficult to know where your photos actually live. And it apparently means there can be some major lag time between when you delete a photo and when it actually goes away.
The BBC says the problem comes from "shaky" business models for social networks:
What the Cambridge experiment has shown is that networks like Facebook and MySpace have decided that they just can't afford to give users as much privacy as they might like. And that means that entrusting your photos to the cloud can mean relinquishing control of the way you appear online.
A Facebook spokesman reportedly denies the study's findings: "When a user deletes a photograph from Facebook it is removed from our servers immediately."
The BBC repeats a familiar mantra: don't put anything up that you wouldn't want the world to see:

you're bonkers to put anything online that you don't want a future employer, partner or aged relative to see – because, if the experiment is to be believed, that embarrasing shot of you in fancy dress at a stag night will remain online even after you've deleted it.
Check out the list of which sites passed and failed the test, and also follow the conversation on Twitter. It's happening under a search for "Are you sure those."
Posted by: John D. Sutter -- CNN.com writer/producer
Filed under: Facebook • Flickr • social-networking sites
April 29, 2009
Posted: 10:45 AM ET
For President Obama's 100th day in office, the White House rolled out a stream of photos on Flickr, the photo-sharing site.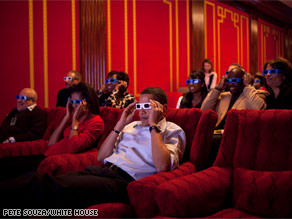 My personal favorite is the one at right, which shows the president and first lady watching the Super Bowl in 3D glasses. Thanks to a co-worker at iReport for passing that along.
As Wonkette notes, Obama used a Flickr account during his campaign, but his photographer hadn't posted any photos of his time in the White House until today. (check out CNN's special coverage of Obama's first 100 days).
Such fun, back in the day, when you could look at "Barack Obama's Photostream" on the Flickr. But then, he became President, and suddenly no more fun pictures. Well, rejoice! White House photographer Pete Souza uploaded a whole bunch of great White House Official Pix, and you can look at them, because you OWN them (if you paid taxes).
The stream seems to reinforce the message that Obama is hip to social media. Instead of pushing out photos and information only through official sites - like WhiteHouse.gov - the administration has become known for using social media like Twitter and Facebook to get its message across.
I find it interesting that celebrities and politicians seem to use these mediums to get closer to their fans and constituents. Never before could so many people talk so directly with famous people as they can now online. The Flickr photos also are a technological follow-up to Obama's national address where he took Internet questions and streamed the answers online in video format.
As a counterpoint, the UK's Telegraph writes about how today's milestone is merely another opportunity for the American media to gush about the president:
... the American media have already put Mr Obama on a pedestal. The sometimes cranky Washington Post columnist David Broder described the president's 100 day sprint as "a bravura opening". For Time Magazine (where Mr Obama is once again on the cover) the columnist Joe Klein described Mr Obama's legislative achievements to date as "stupendous" – listing the $789 billion stimulus bill, a budget plan that is still being hammered out and progress on a landmark safety-net programme aimed at providing universal health insurance.
What do you think? Which photos are your favorites? Do you find politicians on social media to be genuine? Is it more than a PR stunt? Feel free to weigh in on this post with comments.
Posted by: John D. Sutter -- CNN.com writer/producer
Filed under: Flickr • social-networking sites